Art at PC: "Evolution of Origin & Form"
Presbyterian College and the wider Clinton community have a new opportunity to appreciate  a collection of sculptures and 2D art, hosted in the Harper Center for the Arts. Ralph Pàquin, the artist behind "Evolution of Origin & Form," was present on its opening night and mingled with the crowd, answering questions and sharing his experiences.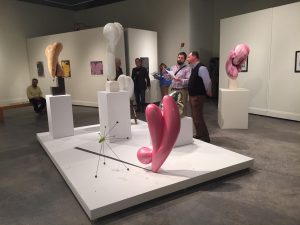 Pàquin (pronounced "Pay-Quinn") hails from Rhode Island and has worked everywhere from California to Nebraska to Florida, and now in South Carolina, as a professor for PC's Art Department. "Evolution of Origin & Form" showcases approximately 1/3 of the pieces Pàquin keeps in his Spartanburg studio. He currently has future projects in the works to display his art elsewhere in South Carolina, as well as in New York City and Venice, Italy.
A wiry man with curly white hair, he speaks about himself and his art without a hint of pretension. Ever since he was 16, Pàquin has been an artist, drawing along to his favorite television programs.
"It's been a lifelong pursuit…it's almost as if I didn't have a choice in the matter…it just happened," he said.
Now, he works in a variety of mediums, taking inspiration from an eclectic mix of sources.
"I like these little snippets," he said. "It's not like, 'Ah! I'm going to copy all that!'" His inspirations include past artists like Henry Moore, and more contemporary figures like Tony Cragg.
And while he works with form in a way the surrealists never did, Pàquin's art stuck me as similar to Salvador Dalí's. His works' playful, expressive imagery makes the viewer ponder what exactly they're viewing. One example is the "Muscle Knot," sculpture, a twisting piece of glossy plastic that resembles a science textbook illustration.
The allusion to science is no accident. When asked to describe his exhibit in five words, Pàquin said, "I can do it in three, how about that? Art and science. It's definitely more art, it's definitely capital A, capital R capital T…and science is more the motivator."
Though after a moment of thought, he added, "Life is in there too. So 'Art, Science and Life.'"
Everyone in the Clinton community is welcome to visit and enjoy "Evolution of Origin & Form." The exhibit will run until February 27 and is free of charge.