Discussing President Obama's Legacy with Dr. Booker Ingram
The opinions expressed in this article represent those of the author and subject, not The BlueStocking itself.
After eight years with Barack Obama in office, last month America bade farewell to its 44th president, who undoubtedly led the country through some tough times. As with any transfer of presidential power, some people were excited to welcome the next one into office, while others were sad to see the former leave. No matter your position, it's safe to say that President Obama broke down certain barriers and left a legacy.
The question is, however, what is that legacy? Dr. Booker Ingram, Presbyterian College's Political Science Department Chair, shared some personal thoughts as to what he believes President Obama's legacy will be according to the American people.
Dr. Ingram believes that Obama's approval rating speaks to his legacy and his lasting impact. Obama left office on Jan. 20 with an approval rating of 60%, which Ingram said indicates that the American people largely have a favorable opinion of Obama and many of his policies as President, and is particularly telling considering the tough decisions that President Obama was faced with while he was in office over the course of eight years.
"There are several areas of [Obama's] achievements that will have a lasting impact upon the country and influence the way that future generations of American citizens will view his presidency and performance while in office," Dr. Ingram said.
Ingram believes that President Obama's most notable accomplishment was rescuing the American economy. Obama led the country through the Great Recession, which began in 2008, the year before Obama's inauguration. On January 20, 2009, the first day that President Obama took office, the country was enduring its worst economic crisis since the Great Depression of the 1930s. The nation's unemployment rate was around 10 percent, hundreds of thousands homes had foreclosed, more than 300,000 jobs were being lost each month and the American automobile industry was near collapse.
"As a result of Obama's leadership and decision-making during the crisis, several publications recently reported during this past November, that more than 15.5 million jobs have been added to the economy since 2010 and the unemployment rate had dropped to 4.6 percent since a peak of 10 percent in 2009," said Dr. Ingram.
Not only did people struggle with finding jobs during this time, but people also struggled with affording health care for themselves and their loved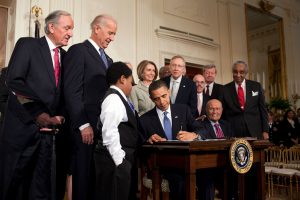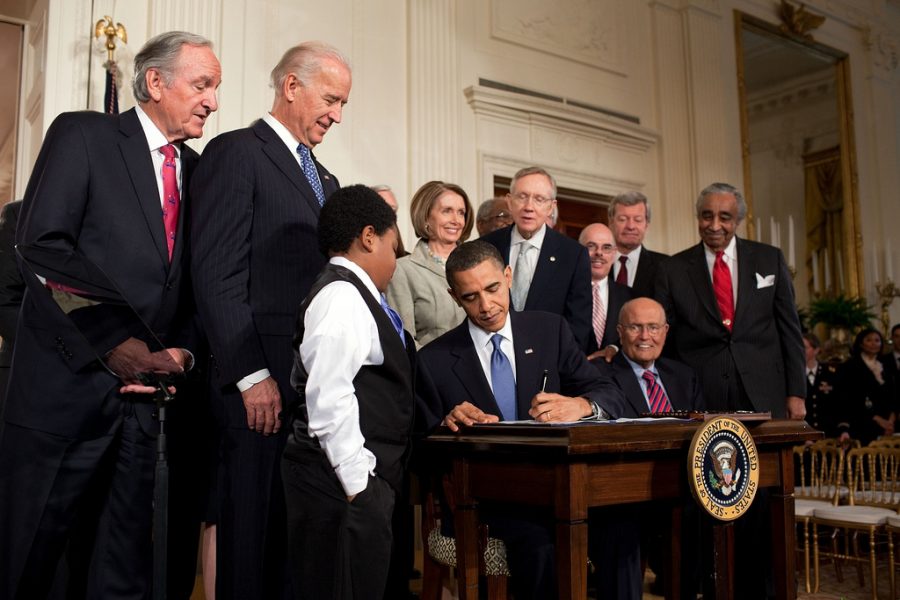 ones. To address this struggle, President Obama passed the Affordable Care Act (ACA) in 2010. While the ACA, commonly referred to as Obamacare, will face major reform (or repeal) by the Trump administration, its passage established a number of healthcare benchmarks and provisions that benefit many Americans. The Act extended coverage to more than 20 million Americans, prohibits insurers from denying coverage to people with pre-existing conditions and allows young people to stay on their parents' policies up to age twenty-six. Hopefully, the new administration will replace the ACA with something that continues to provide healthcare for the less privileged.
During his first year in office, President Obama remained focused on helping the American economy in as many ways as possible, including the controversial decision to rescue the U.S. Auto Industry by continuing to financially support General Motors and Chrysler as President Bush before him had begun to do by providing short-term bridge loans before leaving office. Ingram believes that these investments helped to save a dying industry and also helped the American people have faith in these brands again. Obama also passed the Dodd-Frank Wall Street Reform and Consumer Protection Act in 2010, legislation that was put into place in order to re-regulate the financial sector because many people strongly believed that its practices caused the Great Recession.
Important to President Obama's societal legacy was his status as the first African-American President of the United States. As someone who held this significant position, it became apparent that diversity was very important to Obama. While in office, he appointed Sonia Sotomayor, the first Hispanic person to serve on the Supreme Court, and Elena Kagan, who was the fourth woman to serve. By appointing them, President Obama "protected two liberal seats on the U.S. Supreme Court as they replaced David Souter and John Paul Stevens," according to Dr. Ingram.
Lastly, Dr. Ingram pointed to the fact that President Obama was in the White House for eight years without a single scandal. This speaks to the
type of man President Obama is and the type of President that he was. A scandal free administration is not a small feat and is not something that should be taken lightly.
In Dr. Ingram's opinion, "President Obama will be remembered as the first since Dwight D. Eisenhower to serve two terms free of any personal or political scandal . . . America's image abroad improved significantly under his presidency relative to how it was viewed by other nations during the G.W. Bush years."
While the nation is now under new leadership, Dr. Ingram's reflections remind us of the importance of remembering President Obama's legacy as we move forward in uncertain times, regardless of our party affiliations.