Marches, Rallies and Petitions: PC Gets Politically Active
PC students, faculty, and alumni attended a rally at Falls Park in Greenville on the day following Trump's election. It was one of the many sister marches to the Women's March on Washington. | Photo courtesy of Women's and Gender Studies at PC.[/caption]
On Jan. 21, a group of nearly 30 Presbyterian College students, professors, alumni and staff stood together in the cold rain at Falls Park of Greenville. They were part of a crowd of 2000, huddled together in their rain gear, straining to hear the sound coming from the speakers on a stage through the rain. This was Greenville's sister rally to the Women's March on Washington, one of about 370 sister marches that took place on the day following Donald J. Trump's inauguration as the forty-fifth president of the United States.
Some of PC's group carried handmade posters with their inscriptions covered in tape to protect them from moisture: College Undergrads not tolerating sexism! Ovary-acting? My body = my choice. The people united will never be defeated. Allie Cobb, a senior at PC, carried a sign that read "#WhyIMarch: for my future children."
After the March, Cobb reflected on the experience on social media.
"We were a part of history," she said,  "And it was amazing. While I am completely devastated, defeated, angry, and scared that Donald Trump is now the President of the United States, that is not why I participated," she said. "I participated because I never want my future children to experience those things. Because I want to be respected for the kind of person I am rather than what clothes I wear. Because I want to be in control of my own body and life."
The Women's March on Washington was organized by a national committee of women and men from different industries and backgrounds.
Their mission was to respond to rhetoric during the election cycle—specifically, the rhetoric of President Trump—that disparaged or threatened women, sexual assault survivors, immigrants, Muslims, members of the LGBTQIA community, people of color and people with disabilities. While organized as a nonpartisan event, it was not without controversy; many conservative women felt alienated by the March when a pro-life partner was removed, and the Women's March organizers explained that one of the unifying principles of the March was pro-choice ideals.
The Greenville sister rally featured a similarly diverse array of speakers, including men, women, Christians, Muslims, a city councillor, a college professor and others. While many of the speeches focused on the rights and treatment of women, they addressed other communities as well. A standout speaker was Lailani Fletcher, an educator and member of the Islamic Association of Greenville.
"There is a silver lining that will come out of what seems to be misfortune…for we have been given an opportunity to stand up for what we should have been standing up for already," said Fletcher.
After the rally was over, the PC group gathered at the home of Dr. Emily Taylor, chair of the Women's and Gender Studies Program at PC, for a discussion about the March. The group parted with the words of President Obama: Fired up! Ready to go! A rallying cry for activists disappointed by the results of the election.
And it wasn't only the Greenville attendees who were fired up. A group from PC, organized by Dr. Bec Davis of the Religion Department, attended the March on Washington, including professors, students, and recent alumni. Datie Rogers, a senior, spoke to her decision to make the trek to Washington.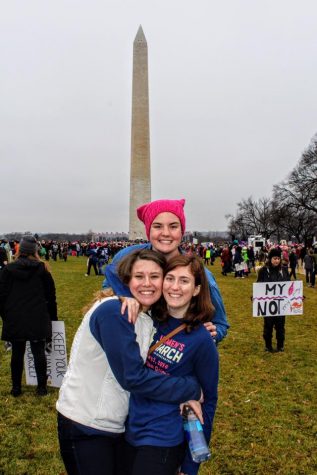 "I was going to take action by using my voice in a situation where I felt like it needed to be heard. I also felt that it was important to stand in solidarity with those who shared some of my beliefs . . . the Women's March demonstrated that Americans, especially American women, were not and are not going to remain silent in times of adversity and that we demand justice for all in this country," Rogers said.
Jacob Kennedy, a junior, also traveled to D.C. for the March, and felt that he had an important role to play as a male participant.
"The March for me meant using my point of privilege and voice to ensure that women are able to have an equal place and voice in society . . . I marched for every woman who has shaped me into who I am today," said Kennedy.
The high participation of PC community members in the Marches is part of a flurry of political activism emanating from PC students and alumni this academic year. Last fall, a silent Black Lives Matter protest took place in front of Springs Student Center, an event organized by Kennedy and Joaquin Ross of the Multicultural Student Union. Ross and Kennedy will present on the protest at the NEXT conference in Atlanta this semester.
Additionally, a petition to make PC a "sanctuary school" began circulating late in 2016. The petition, published by a group of PC alumni on Medium, praises PC President Bob Staton for being among 450 college presidents to sign a letter of support for Obama's Deferred Action for Childhood Arrivals Initiative, but asserts that the college should do more to protect immigrants.
"Presbyterian College is not only an unabashedly Christian school, but also the flagship college of the Presbyterian Church (USA), a denomination that has made support for immigrants a centerpiece of its public witness," reads the petition. "Even alumni who do not claim Presbyterianism or Christianity recognize that protecting immigrants is a crucial part of our school's dedication to service."
The letter goes on to encourage PC to take steps to shield undocumented students from expulsion and deportation. The petition now has over 300 signatures of individuals who, like PC students who marched, believe that political activism embodies the motto dum vivimus servimus.