From the sidelines to the stage
by Brianna Estes | Staff Writer
Competitive cheerleading is an up-and-coming sport in the world of athletics, spreading its wings from university to university. Before now, the PC cheer team has not had the opportunity to be able to compete in the world of collegiate cheer, but this is quickly changing.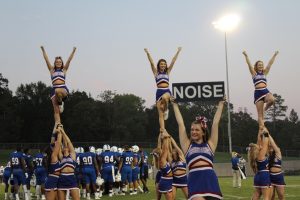 In the past, the PC cheerleaders have stuck to the sidelines as they cheered on the Blue Hose in football and basketball. This year they plan to not only take on the sidelines, but to stand together to compete in the collegiate level against other colleges. This will be a first in PC cheerleading history.
Ashley Patrick, the team's newly welcomed coach, has inspired her team members to push themselves and work hard at their new-found goal. A former USC cheerleader, Patrick "cheered in the competitive world for 16 years and coached competitively 3 years." Her background in cheerleading has prepared her for coaching. "This will be my fourth season coaching competitively, but first in the college level. I'm excited for this team to show the community and college world that we are ready!" Patrick said.
Because this will be the team's first time competing as a whole, Patrick stressed that the team would have to intensify their training in order to compete at the collegiate level. She responded, "We are conditioning, drilling tumbling and jumps, and working on increasing our difficulty in stunting. It takes endurance and stamina to get through a two minute and thirty second routine with minimal deductions. Focusing on technique at practice will prepare us for competition day."
However, these preparations are not limited to the practice room. She went further to say, "In order to compete at the collegiate level, athletes must work hard in the classroom, work out outside of practice, and come to practice ready to work each time. You need to have strong stunting skills and tumbling skills. You also have to have sharp motions, athleticism, and a dance background."
Although it may not sound like a very long time, two minutes and thirty seconds of pure focus and intense working is very difficult. "In the routine our athletes will perform two hard stunt sections, many tumbling passes, two jump sections, a pyramid section, a dance section, and start off with a 25 second cheer to get the crowd involved!" Patrick explained.
Some of the team members already have a background in competitive cheerleading. Ashton Huckabee, a sophomore Biology and Pre-Med major, stated, "I cheered competitively on an all-star team and my high school team. My all-star team even won nationals. Competing is my favorite part of the sport and I am so excited that PC is taking our cheer program to the next level. I believe that competing is going to change our program around."
Patrick shared her plan to fulfill her team's goal. "For our first couple of years we will compete in Division I intermediate. This means our skills are limited to one high pyramids and no twists in tumbling," she said. "While there is another level above intermediate, we want to take the first couple of years to recruit and build a strong foundation. Once the foundation is built it, is my goal to compete at the next level." She plans to push her team members to their highest abilities in every way: physically, mentally, and academically. There is no stopping Coach Patrick and her team.