Family Weekend gives students and parents the chance to experience college together
by Libby Fowler & Zoe Montague | Co-Editors-in-Chief
The evening of Friday, September 22, PC students, parents, faculty and alumni enjoyed refreshments as they gathered in the Cornelson Center of the newly renovated Neville Hall. This drop-in reception, sponsored by President Staton and the Parents Council, helped to kick off a beloved PC tradition.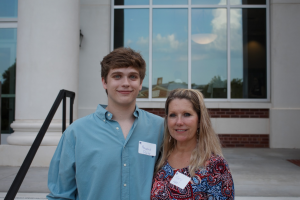 Family Weekend is one of the campus's most popular events as it welcomes all members of the PC family (whether extended or immediate). The BlueStocking staff decided to survey the reception's attendees, in order to gauge how students and parents view PC differently. All who chose to participate in the survey were then entered to win a care package for themselves or their student.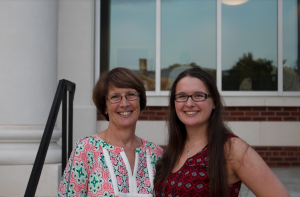 Shockingly, many students admitted to hiding things from their parents this weekend. Answers ranged from disguising bad study habits to weekend activities. Kate Green, a junior History major, stated "I would've hid my junk food, but I already ate it all." Her spirit adeptly summarizes the mindset of a typical college student.
Many students had similar responses regarding their favorite thing about PC. Ashlee Anderson, a senior Psychology major, loves how she has "relationships with everyone." Although only first-year student, Sarah Smith agrees with this sentiment, appreciating "the community and small class sizes."
While students claim independence, they still maintain frequent contact with their parents.  The majority of responses stated that students communicate with their parents everyday.  The parents' responses echoed these findings. To protect her child's pride, one mother preferred to respond anonymously, saying "[the student] probably doesn't want me to say, but [we talk] most days."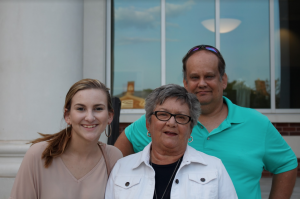 The constant contact helps parents during their child's absence. Mel D'Amico shared that "It's pretty lively when she's home. I miss the noise." Mary Keel was much more succinct, stating that she misses "everything."
Much was learned from this small survey. Although students are living away from their parents, events like Family Weekend give students an opportunity to be openly excited about inviting their family into their college experience.
Congratulations to Riley Swindell for winning the care package! It will be headed your way soon.