The newest addition to the History department has bright plans for his future at PC
by Kate Green | Staff Writer
Dr. William J. Harris is the new history professor here at Presbyterian College. He is most recently from Western Pennsylvania, where he was teaching at Slippery Rock University and commuted for year while his family was living in New York. Before that he began teaching at Hobart and William Smith Colleges in upstate New York.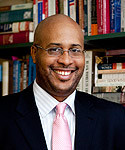 Harris' research focuses on 19th century U.S history, African American History and History of the Antebellum South. Here at PC he will be teaching classes that focus on U.S History, African American History, Race and Violence, Southern History and Civil Rights History.
Prior to living in New York, Harris and his family had lived in this area before which became the main reason behind him applying for this position. Harris' primary reason for coming to PC was closeness to his family. "I like that I was close to family and friends that I grew up with. I liked the size of the school, the smaller classes and getting to know my students over a course of a semester." Harris was able to find PC through online resources while in the process of looking for a job. He quickly knew that PC would be the right place for him and his family.
All of Harris's expectations regarding teaching here so far, have been met. He enjoys getting to know his students, the community and all of his new colleagues who have been very supportive of his adjustment. Compared to the other schools he has worked in the past, PC has some similarities however, PC stands out a little differently. Harris loves that fact that PC has a much more student involved campus, especially with the professors. He loves that the students and professors have a relationship outside of the classroom. Harris also explained that he is looking forward to not having snow around Christmas time and that his children are also excited about that as well.
Harris appreciates the freedom in teaching that he receives at PC. "I like that they are allowing me to create my own classes that I am interested in and be creative with that". He goes on to further explain that he has been thinking about creating class that focuses on black comedians as social critics who use comedy as a way of understanding the world that they are living in.
He also wants to have a couple movie series classes as a way to introduce himself to the campus. Harris hopes to show a couple of African American history films that he enjoys, one in the fall and spring. He is also looking for different ways to be more active on campus and hopes to find out what he can do to contribute to our campus.
Overall, Harris is very excited to be here and looks forward what PC has to over for him and his family.