Calling all Janeites!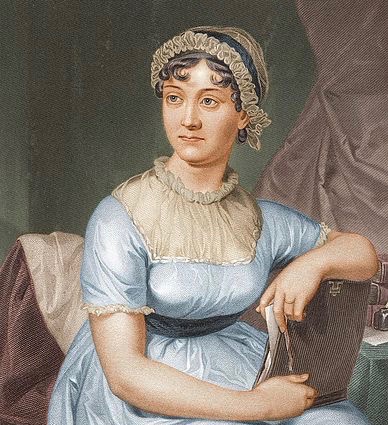 by Dr. Lynne Simpson | Faculty Writer
Austenmania means a number of different things, albeit I hope that no matter what the definition, there is a degree of devotion to the novels of Jane Austen implied. The Prince Regent of England, later King George IV, admired her work, paid her a visit, and even shamelessly asked that she dedicate a future novel to him.
There have always been us Janeites, then, royal or otherwise.  
Rudyard Kipling, the 19th century author who coined that term, asked simply, "Who loved Jane?" He certainly did.  Dramatically, Kipling read Austen in the trenches during the pitiless fighting of World War I. The works of Austen were also distributed to American troops during the Great War as part of the American Library Association's "War Service Library" program. This may seem a startling choice of reading material, given Austen's focus on romantic love and family, for men at war.
Austenmania, however, embraces such contradictions. Her novels offer brilliant social satire yet somehow still become a blueprint for the modern romance novel. Literary historians rightly credit her for helping to pioneer the novel as an art form. My favorite Austen novel is her final one, Persuasion, which was published posthumously. This novel anticipates the stream of consciousness technique—developed about a century later—that characterizes the modern novel. Had Austen lived longer, I wonder how else she might have revolutionized genres?
Austenmania also owes a debt to the silver screen. Ang Lee's meticulous and luscious adaptation of Sense and Sensibility opened in 1995.  It was the first Austen film adaptation with a period setting for over a half century; the adaptation prior to that, Pride and Prejudice (1940), starring Sir Lawrence Olivier and Greer Garson, featured actresses costumed in gowns and hoop skirts left over from Gone With the Wind.  In 1995, Alicia Silverstone dazzled in Clueless, a smart and funny homage to Emma.  I look forward to screening both of these wonderful films in my course next semester. In that same year, heartthrob Colin Firth's wet white shirt portrayal of Mr. Darcy from Pride and Prejudice had BBC fans swooning, and created a cult following akin to the more recent Downton Abbey phenomenon.
Finally, Austenmania exists as a state of mind, and perhaps consumerism. I own (in no particular order) Jane Austen band-aids, Pride and Prejudice sticky notes, Jane Austen's Guide to Dating, Tea with Jane Austen, replete with recipes, Pride and Prejudice and Zombies, and a Marvel comic edition of Pride and Prejudice. Speaking of Marvel, I imagine that my Jane Austen superhero action figure often prevails when doing (imaginary) battle by clocking opponents over the head with her wee plastic writing table. I once sprinted across four lanes of traffic, cars speeding along in the wrong direction because it was England, just to take a selfie in front of her house in Bath, which is now, most regrettably, a dentist's office. This past summer, the venerable New York Times devoted much of one Sunday Book Review to her work in anticipation and honor of her 400th birthday on July 18th.  There were celebrations worldwide, in fact.  What would Austen herself have made of all this tribute and fame, given that she published anonymously at first, like so many other women writers of her time?
So, if you think you to might be a Janeite, as evidenced by the fact you played your DVD of Pride and Prejudice (2005), starring Keira Knightley and Matthew Macfadyen, so much it actually warped, or if you just want to fall in love with her for the first time, I hope you will consider joining me this spring for "Austenmania!".