2018 Big Man on Campus is a big hit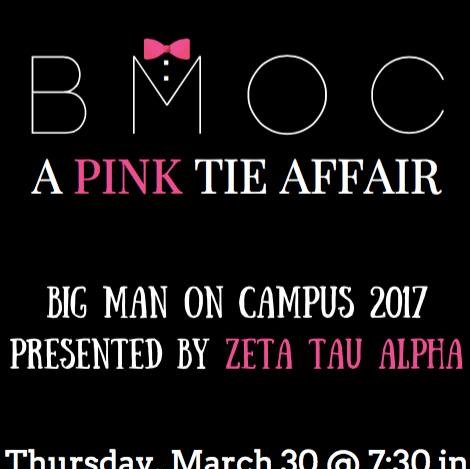 by Denise Devaney and Kate Green | Social Media Editor and Greek Life Correspondent
Lacey Hornaday, President of Zeta Tau Alpha, introduced Big Man on Campus with statistics on how many women in the United States are affected by breast cancer and explained how revenue made from ticket sales would be donated to Breast Cancer Awareness and Education. Breast cancer is the second leading cause of death among women according to the National Breast Cancer Foundation. One in eight women in the United States will get breast cancer in their life.
According to breastcancer.org, "In 2018, an estimated 266,120 new cases of invasive breast cancer are expected to be diagnosed in women in the U.S., along with 63,960 new cases of non-invasive (in situ) breast cancer."
Hornaday continued by introducing the judges, Dr. Roy Campbell, Dr. Austin Shull, Lisa McCoy, and Coach Harold Nichols had the pleasure of picking the most talented of the bunch.
Senior and co-host Anthony Price followed this with his opening number to a mashup of Beyonce's songs. He had many backup dancers to accompany him in his number and ended the dance in a split and crowd went wild! Price then joined the other host, sophomore Meredith Foster, to introduce the contestants and have them start their talents.
Sophomore Hunter Popkins was first to perform and invited volunteers on stage to try his hand-molded burgers that he cooked there on stage.
Next, freshman Nick Young came on stage to perform magic tricks. He set his wallet on fire, and it didn't burn up.
Stewart Robertson covered the song "On My Own" from the musical "Les Miserables." He received a standing ovation for his rendition.
Junior Mike Fisher followed with a spoken word poem by Rudy Francisco called "To the Girl Who Works at Starbucks." His recitation brought many on the house to their feet.
Freshman Luke Foster came next, playing "Hot Cross Buns" on the recorder.
Senior Zach Cooper also had a musical act. He played guitar and sang "Work Song" by Hozier that was also concluded with a standing ovation.
Sophomore Nick Quatraro had a unique but excellent talent of miming a horse race with horse puppets! Sophomore Anna Phillips was there to make a finish line that was hilariously represented by a toilet paper on a plunger.
Finally, Junior Darius Rowe came onto stage with backup dancers while he lip synced "Juicy" by the Notorious B.I.G., among other hits. He busted out a few moves and also finished his talent with the splits.
Price and Foster continued on and asked the contestants questions like "What do you eat at Springs?"
A video was then displayed of sorority sisters in Zeta Tau Alpha, while the judges made their decision.
In the end, Fisher was awarded for bringing the largest number of fans to the show and Cooper was crowned King of this years Big Man on Campus.