PC professors create unique ways to hold classes during COVID-19 pandemic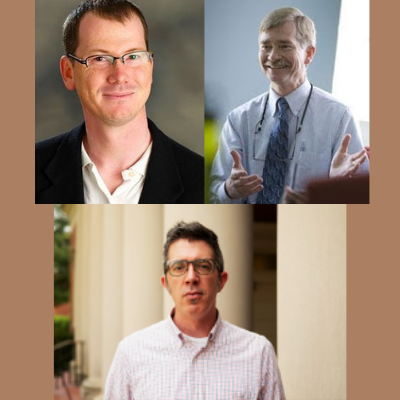 With the COVID-19 Pandemic changing the course of classes throughout PC, professors are coming up with ideas to help their students as much as possible.
The COVID-19 pandemic has changed the perspective of a college student in many ways. Because of the way the virus is spread, many professors in schools across the country are unable to hold their classes in large auditoriums or classrooms because the virus can remain airborne. 
Here at PC, however, many professors are crafting unique teaching methods that not only allows them to give out information during their lectures but to also help their students learn as much as possible.
The Hybrid Model
Dr. James Wanliss, professor of Physics and Earth Sciences, said that he has had to change the way both of his FYE and Earth Science courses operate.
"Because of the virus trouble I've had to modify the usual way I teach. For the fye courses, we have regular in-person meetings in the Richardson building. This is possible because my sections have no more than 14 people, so we can follow the college coronavirus guidelines for gatherings, essentially without changing a thing from our normal routine, except that everyone wears a face nappy in class," said Wanliss. 
"For earth science, with much larger classes near 30 students, they have video lectures to watch every week and should take notes and follow the usual best practice for learning material from lectures. Every student has a lab on a particular day of the week and students come to class for lectures and activities on the same day of the lab. This seems to be working out better than I had hoped as it is easy to remember the day to meet in-person — lab day. Some weeks the whole class meets for lecture and then we go outside, in order to follow spacing rules," said Wanliss.
Not only has this been a new challenge for Dr. Wanliss, but he also said that doing labs in his classes have been fairly difficult as well, and the fact he can not see any of his students' facial expressions.
"Lab has been modified into cohorts. This is more work for me but results in a streamlined student experience where, for example, I have multiple groups working simultaneously in different lab spaces. We are doing homework through an online tool, and everything is organized through our Classroom learning management systems," said Wanliss.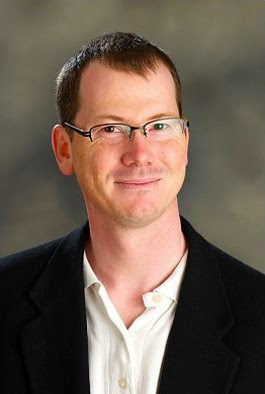 "The biggest challenge for me is not seeing my student's facial expressions. I enjoy getting to know students, especially in lab courses, where we spend a lot of time together. Since everyone is wearing a mask, this is much more challenging, and I am sad about the loss of connectedness produced by the barrier. Quite frequently I find it difficult to have a conversation without asking students to repeat themselves as hearing is more challenging when words are muffled by masks. Speaking with a face shield is also difficult, but is not a massive sacrifice."
Despite these circumstances, Dr. Wanliss is hopeful that all of his students will succeed in his courses.
"Overall, I think this model I am using can work out well. I treat my students with respect and expect them to be responsible for their learning. Since we are meeting in person for [a] significant time each week, plus have online components, I feel this might potentially result in better opportunities for students to learn. So, overall, I am cautiously optimistic that this crisis is actually an opportunity to improve our learning opportunities in my classes. Were I teaching online-only courses, I would be quite concerned. Online courses have a place, but overall seem to me to be an inferior educational and teaching experience that lacks important components I feel are essential in education."
Several Unique Options
Dr. Bob Bryant, who has been a professor at PC for 20 years now, said that he has never seen a situation like this unfold on campus before. Despite this new challenge, Dr. Bryant said that he couldn't be more grateful to see some interaction with his students during the pandemic.
"Even though we face serious challenges to our health and communities from this pandemic, I think we are finding appropriate responses together at PC, and I am thankful that teaching and learning are continuing both on campus and remotely," said Bryant.
To hold his classes and lectures, Bryant is using several options for his courses: the PC Piephoff chapel and Zoom. He is also using Neville Hall classrooms, with social distancing and face masks as a requirement. Social distancing and face masks also apply to Dr. Bryant's outdoor classes as well.
"I have four different classes and in large measure I am meeting with each of them together in a single location three times a week. Three of my courses–The New Testament (RELG 212), Religion and Human Experience (RELG 200), and Introductory Greek (GREK 301)–are all being taught for the most part outdoors at the Piephoff Chapel in the morning. My Greek class, though, needs more online time so that we can all see and hear one another and work together more closely with texts. My remaining course, The Life of Jesus (RELG 322), meets together in Neville Hall. There is ample room in both locations for appropriate social distancing, though our need to be masked does make it more difficult to speak and hear, especially outdoors, but we're all adjusting," said Bryant.
Concerning the challenges he has faced so far, Dr. Bryant said from what he has gathered most PC professors are facing the same challenges and circumstances.
"There are several big challenges that we all face as professors. One big challenge is teaching simultaneously and nearly continuously on multiple fronts. In some respects, we've been doing this already. We've been using technology, managing discussion boards, utilizing online submissions for student work, and disbursing course content. Now, however, there's a greater need to be prepared to be entirely online at any time, and already we're teaching our students wherever they are–on campus, remotely on-campus, and remotely off-campus–both synchronously and asynchronously and for every class," said Bryant.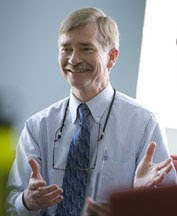 "Another big challenge for many of us is managing the additional tools necessary to do the teaching and assessing today. When teaching outdoors, for instance, I can no longer go to class with course material alone. I also need additional equipment for class, such as a sound system and portable whiteboard. I need additional tools and approaches than we would need in a traditional class setting. I also have to watch the weather, decide how the class will be held, and notify students, all of which requires more flexibility and attentiveness on behalf of myself and my students, which are not bad things at all" Bryant said.
Even though he's happy students are back on campus, Dr. Bryant did admit something: he doesn't like speaking through a face mask. But, he does appreciate his amplification sound system since it helps him and the class as a whole. 
"Let's face it, lecturing through a face mask is terrible. It is difficult to breathe when speaking for any length of time, and it's difficult to be heard and to hear. Indoors, with a smaller class where no one is too far away, it is not too bad. But with larger classes of 24 and more, it is tough, especially given the distance necessary for social distancing. The amplification system, though, makes it possible outdoors. All we need now are personal voice amplifiers for each student and we'd be set!" said Bryant.
When asked if he was nervous about students struggling during these unprecedented times, Dr. Bryant was hopeful that his students can learn extremely well, just like in the past.
"I think COVID-19 is a deadly serious pandemic and anyone who has to endure its symptoms is going to need to concentrate on regaining good health. I don't think we should expect anyone to learn course material under such circumstances. But for asymptomatic carriers and the uninfected, I think students can absolutely learn as well now as before. In the end, we professors are like travel guides. We can share the places and the terrain we love, and we can offer what we can about the amazing qualities and the kinds of living that occur there, but it's finally up to every traveler to make of the journey what she or he will. In the end, learning is always a very personal affair. People who want to know and understand something usually persist until they do and will find people to help them, and we have the same amazing and caring faculty here now that we had before the pandemic. So if a student wants to become a better thinker and more knowledgeable about the world we live in and how he or she might serve in it, this is a fantastic place to be," said Bryant.
Online Zoom Learning 
Dr. Philip Perdue, who joined the PC faculty last year to start up the English-Communications program, said that because of health concerns in his household, he's unable to hold any classes on campus this fall. Because of this issue, he's currently holding all of his classes through Zoom for the fall semester.
"I'm not doing any face-to-face teaching. The other part of the class is the Brightspace component, so I'm holding classes online. A lot of the content is front-loaded onto Brightspace so students can come to class through Zoom and also see much of the content that we're discussing in class right there in front of them on Brightspace. For the 'intro to communication studies' course, I supplement online Brightspace content with powerpoints, visual media, and visual examples," said Perdue. 
Perdue, however, had mixed feelings about whether he enjoyed teaching his classes completely online this semester.
"I enjoy teaching and I enjoy the interactions with students, but online teaching is very limited in what it can offer by way of student-teacher interaction. I very much miss the student-teacher interaction that the classroom provides. Zoom is no match for in-person teaching experience," said Perdue.
Perdue said that the main challenge for his courses this semester was not his students learning the material, but more so the social impact online learning has had on his classes thus far.
"The biggest challenge easily is the social element: not being able to see students' responses, not being able to get discussions going with students because I can't see their faces. I can't tell when students are confused or when they're understanding or distracted when they're tired when they're engaged because all I have to look at is a screen. It's a huge challenge. In my classes, I don't require cameras to be on for a number of reasons. So there's also the challenge of knowing what students are doing. So getting feedback from students is a "big-big" challenge," said Perdue.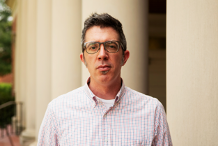 Dr. Perdue's biggest concern is how to help his students learn in the best way possible.
"I think I'm concerned that the learning experience is different and there's a lot more responsibility on me as someone who's teaching online to adapt quickly. Whether it's through multimedia content, whether it's through surveys, whether it's through the chat function, I'm responsible for coming up with ways to help students learn in the environment we have," said Perdue.
"I need to figure out what I can do to help students who might not be as quick to engage with the Zoom platform as they would in an in-person platform so that I can help them learn. With that, I'm making video tutorials on "how-to" assignments, I'm making supplemental videos on course contents, and I'm leaving audio notes on how to do assignments. It's week three, so it's hard for me to tell what the returns are on these changes, but I am trying to definitely be flexible and emphatic to challenges on the learning end," said Perdue.
Lastly, for Dr. Perdue, the next couple of weeks will be paramount to see if students are learning the material. Everyone, teacher and student, is in this semester for the long run to provide the best educational experience possible.
"I wouldn't say I'm nervous about the circumstances, but I am alert to them and trying to be as responsible and adaptive on my end, and when we start doing tests and exams in a few weeks, we will have a better idea on how students are learning. I think it's up to all of us, teacher and student, to put together a different kind of effort," said Perdue.