PC Student Athletes Respond to the Big South Suspending Fall Sports
Collegiate sports are some of the major things that most college students enjoy during their college experience. Whether being a student-athlete or spectator in the stands, the passion, traditions, and emotions are what make college sports stand out compared to professional sports and other leagues across the world. Ever since the COVID-19 pandemic wiped out spring sports, many have debated whether playing sports in the fall would be a good idea due to the risks COVID-19 portrays even after a patient recovers fully.
Unfortunately for PC student-athletes, those playing in the fall will have to wait a little longer. 
Ever since the Big Ten conference announced that fall sports will not be played because of the risks that the COVID-19 pandemic represents, it has created a domino effect in which many conferences across the country have followed suit with what the Big Ten is doing. With this announcement, PC's conference, the Big South, is suspending the fall sports season with the hope of playing in the Spring.
"We are all broken-hearted that we will not be able to provide competitive opportunities for Big South student-athletes this fall," Big South commissioner Kyle Kallander said in a statement. "However, the path forward must protect the health and safety of our student-athletes, and some of the current trends and unknowns with COVID-19 have made that a huge challenge.  Our intention is to shift these fall seasons to the spring as we would like nothing more than to crown Big South champions in all 19 of our sports this year."
At PC, many student-athletes found the Big South's decision to suspend the season not surprising at all.
"After seeing a lot of schools cancel throughout the summer I kind of saw it coming, but I was still disappointed" junior Blue Hose football player and running back Jarius Jeter said.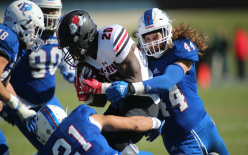 "The season being canceled did not really surprise me. With all that has been postponed and canceled this past summer, I was prepared for the worse regarding our season" Cairns said. "However, I was super disappointed with the actual decision. I was sad for our seniors who may not have the opportunity to experience all their senior activities and I was sad that our team was not given the opportunity to show our growth."
As for senior women's soccer player Tara Brophy and junior men's cross country runner Luke Harmon, both knew this situation was just a matter of time before it came into tuition.
Brophy feet it was the right decision to make.
"The moment I found out the season was suspended I was honestly very upset and disappointed, while I did foresee a shortened season coming I was remaining optimistic and did not predict that our season would be completely suspended," Brophy said. "After taking time to reflect on the situation I realized that this could end up being a great thing for our team come game time."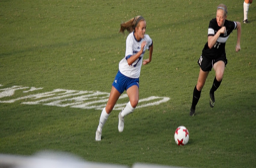 Harmon on the other hand was pretty disappointed that his cross country season was delayed.
"I was pretty devastated to hear that the season was being suspended because the competition part of the sport is the biggest driving, the motivational force that keeps us training. It is a little disappointing to hear that we could not show off the intense training we were doing over the summer" Harmon said.
Despite the current situation, Jeter, Cairns, Brophy, and Harmon state that their respective teams are still practicing even though there are no games scheduled. However, all four of them do have a lot more time than they have had in the past.
"Right now we are lifting at least 2 times a week and still practicing 3 times a week in some groups because of the virus. With the season being canceled I have little more time to do things around campus" Jeter said. 
"Our team is currently in 8 hour weeks. These 8 hour weeks typically result in 3 practices a week and two weight lifting times. Personally, this has allowed for more study time and team bonding off the court which has been very nice. The slower pace has allowed me to focus on my grades and enjoy the COVID modified college experience" Cairns said.
"Right now we are practicing three days a week and doing team weights twice a week. This is our typical offseason practice schedule, which has allowed us to have some additional time since our typical in-season schedule is much more time-consuming. Our team is taking this extra time to not only do more things on campus and focus on our classes but to also work on individual fitness and skills outside of practice. At practice we are focusing on building onto our team principles and concepts and getting better with each practice we have together" Brophy said.
"The team is practicing only four days out of the week and working more on the conditioning aspect of cross country just maintaining in-shape for the season to come rather than focusing on the more intense training. I definitely have a little more off time because of this, I am less tired most of the time and have much more time to honestly just lounge around and not stress over anything for a while" Harmon said.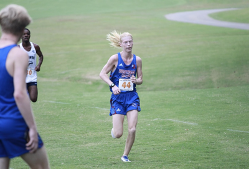 But one thing did not change among Jeter's, Cairns, and Brophy's teams: their respective team's goals have not changed.
"Not really, still have the same goals, and that is to win games. On the bright side of things, this gives us more time to develop players on the field and in the weight room" Jeter said.
"Our team goals were inspired to change because of our season's postponement. I think each person is motivated to take this time and work hard for a position on the court. This has encouraged hard work, intensity, and high-level volleyball" Cairns said.
"I wouldn't necessarily say our team goals have changed. We always have the mentality to improve every day and be the best team we can be at that given time. The suspended season really allows us to improve on our fitness, skills, and team concepts which I believe will be beyond beneficial come spring season. We are going to be ready and I am excited to see the positive impact this extra time will have on our season" Brophy said.
On the other hand, with more time to train and do conditioning, Harmon said that the cross country team is more focused on running higher mileage so it will pay off in the end.
"Our team goals have definitely changed with the un-normal circumstances where like I said before we are taking more time to focus on getting higher mileage and less time focusing on the high-intensity training in order to get our speed up," Harmon said.
While there are a lot of unknowns still surrounding COVID-19 acting in the coming months, Cairns, Jeter, Harmon, and Brophy are all still hopeful and optimistic that both of their seasons will be played.
"Most definitely looking for a spring season," Jeter said.
"I am very hopeful that there will be a spring season, whether that be in track or cross country and I especially feel for the new freshmen on our team that couldn't show off their talents to the full extent as I could my freshman year. We are keeping our heads up and positive attitudes, because that is truly all anyone can do in the situation all of the world, is facing today" Harmon said.
"I am very hopeful for a spring season. Our hard work this fall gets me excited to compete again. Our whole team is wanting to get back out there and hope we will soon" Cairns said. "I was sad for our seniors who may not have the opportunity to experience all their senior activities and I was sad that our team was not given the opportunity to show our growth. Hopefully, sports will be back in the spring. Our team has been working hard to get better on and off the court. I've noticed an overall improvement in our work ethic and am excited to show that off soon."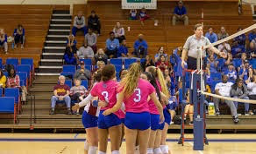 "I am staying optimistic and truly believe that we will have a spring season. In my opinion, it is not beneficial to the team or anyone to believe that the season will be canceled. I know how hard everyone on my team has worked over this summer, is working now, and will continue to work" Brophy said. "I believe that PC, the Big South, and the NCAA are aware of how important having a season is for us. Athletes across the country have spent their whole lives playing and training for the sport they love and I am certain that PC and the Big South will do everything in their power to make sure we get to play. We love and miss the game and are all excited to be back on the field together doing what we do best."