Come to Greeks for God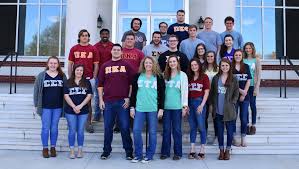 With the combination of bible studying and greek life, PC's newest religious organization is gaining traction on campus.
Many people on campus take part in organizations on campus, and two of the most popular ways to get involved are through greek life and religious organizations. According to Presbyterian College website, approximately 45 percent of all PC students are involved in greek life, which includes seven fraternities and three sororities. As for religious organizations, they are very popular as well on campus, with seven group-run religious organizations operating currently on campus. 
However, a new group has emerged at PC that combines both greek life and religion: Greeks for God.
Founded by Isabella Quatraro, a PC sophomore and member of the sorority Sigma Sigma Sigma, Greeks for God meets on Monday nights from 8:00 PM to 9:00 PM near the fireplace in Springs. Quatraro wants all PC students to know that Greeks for God is not strictly a religious organization for members fo greek life, but the group open to all members of the PC community as well.
"Greeks for God is a Greek life worship organization that serves as a home and community for all the members of Greek life and everyone in the PC community. We serve as a safe place for people who want to grow in their faith and relationship with God, and the best part is there is no experience is required!" Quatraro said.
Quatraro and the other leaders who oversee Greeks for God understand that it can be a struggle for people who are entirely new to the Christian faith and they want to make everyone who wishes to attend feel welcome. Not only are students welcome to come, but so are PC faculty and staff. Quatraro wants to create an inclusive community that aims to build relationships and foster conversations about student life at PC and God. 
"The leaders of Greeks for God know how hard and nerve-racking it can be to join a Christian organization when you do not really know anything about Christianity or God, so we strive to be a place where people feel comfortable asking questions and growing in their faith," Quatraro said. :Greeks for God is open to everyone in the PC community, even the faculty and staff, and we encourage everyone to come join us on Monday nights in the new area of Springs from 8-9pm."
The religious organization got its start because of Quatraro's own personal journey with both greek life and religion. After working with Greek Life and Religious Life, Quatraro was able to make her vision for a new and inclusive religious group come true.
"I came up with the idea to start this community over the summer while I was struggling with my own relationship with God because of who I was in the past. I wanted to give everyone who felt the same way a chance to grow in their faith! When we came back from break I began working with Greek and Religious life to get the ball rolling," Quatraro said. "After a little advertisement the floodgates opened, and I received so much help from other students wanting this to happen just as much as I did! You could truly see God working on this campus!"
After finalizing the plans for Greeks for God and announcing the start of the organization's meetings, Quatraro received an unexpected flood of interest from a wide variety of students. Ever since the group began meeting on campus, Greeks for God has continued to pick up steam and gain popularity. More and more students have been attending meetings since the religious group kicked off, and Quatraro has seen members of greek life as well as students who are not in a campus sorority or fraternity.
"So far we have had very good turnouts averaging about 30 or so people a week, but a couple of the weeks we even reached about 60 people! We are hoping that some of the people that came the first couple of weeks come back and continue to grow with us," Quatraro said.
For Quatraro, the main goal of Greeks for God is a simple one: to help spread the Word of God to people throughout campus and to help strengthen their personal relationships with God. 
"Our main goal on campus is to get as many people as we can in contact with God! Our main goal as Christians and as members of the Greeks for God community is to share the Word of God to everyone we can, and it is the leadership team's job to provide our members with the necessary knowledge and tools to do so!" Quatraro said. "I can wholeheartedly say that our main goal is to help as many people as we can strengthen their relationship with God so they can enter the kingdom of Heaven one day! We also hope to help strengthen the PC community, as well as, the Clinton community through service and community building activities and projects!"
For more information on Greeks for God, please contact Isabella Quatraro at [email protected]. If you want to attend a meeting, Greeks for God meets Monday nights from 8:00 PM to 9:00 PM in the newly renovated area of Springs, just by the fireplace.