Hiking trails to visit near PC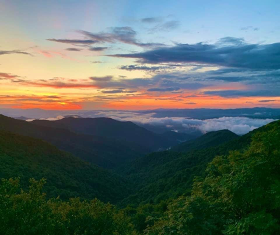 It's fall y'all, which means cool weather and leaves changing colors. A great way to get out and clear your head during the stress of this short and busy semester is hiking! Hiking is a great way to take a study break during the pandemic because you can easily social distance on the hiking trails. 
The closest hiking trail to PC is Musgrove Mill, which is roughly 15 minutes away from PC. The trail at Musgrove Mill is about a mile long and it leads to a small, beautiful waterfall. The trail is very doable for those who want a change of scenery with a quick trip out in nature, or even for the light exercise a nature walk provides. Musgrove Mill is also a Revolutionary War site! Highway 56 will take you straight there.
Another hiking trail, and one of the most notable places to hike in the Upstate of South Carolina, is Table Rock Mountain. It is less than an hour and a half away from PC, near the North Carolina/South Carolina state border. Table Rock offers several hiking trails from half a mile to 4.2 miles one way. The most popular trail at Table Rock is the Table Rock Trail itself, which offers stunning views of Western North Carolina. The Table Rock Trail, however, can be strenuous so it is recommended that only experienced hikers attempt this trail.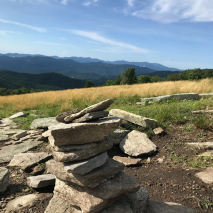 The next trail is Craggy Gardens Pinnacle off the Blue Ridge Parkway near Black Mountain, NC, which is about 2 hours from PC. The trail is less than a mile long and is a relatively moderate hike, but the view at the top is absolutely breathtaking. In the spring, the trail has large amounts of rhododendron that grows along the side. If you do not want to hike but still want to see an amazing view, you can go to the overlook directly beside the trailhead. If for no other reason, every PC student should take a trip to the overlook at Craggy Gardens Pinnacle to watch a sunrise or sunset. If you continue down the road for 14 miles, you can go to Mount Mitchell, the highest peak east of the Mississippi River.
Finally, located in Gerton, NC, Bearwallow Mountain is a 2.5 mile somewhat moderate hike with both beautiful views and cows at the top! Pro tip: if you go in the summer when it rains, wear shoes with good traction. The trail is located between Asheville and Chimney Rock, only an hour and a half from PC.