Join Tartan Media Network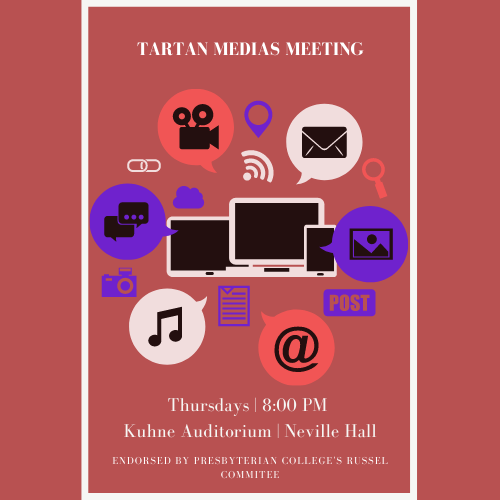 You may have noticed emails and flyers about the new Tartan Media Network. But what is it? The TMN is a joint connection between The BlueStocking Newspaper, PCBlueTube, WPCX Radio Station, and the Figs and Thistles Literary Magazine! Each organization maintains their independence from one another, but once per week the organizations come together to meet with students to discuss campus developments, content ideas, or upcoming milestones for the college, its students, or the organizations themselves. The TMN has one main goal: help students make money through the production of diverse media. For example, if you write an article for The BlueStocking, you will be paid for your time and effort! Hosting radio shows, filming YouTube videos, taking photos, or recording Podcasts are all ways that you can make money by creating content for one (or more!) of the TMN organizations!
Unlike many RSOs on campus, Student Media works around your schedule and pays you based on the content you create. While each organization would love for every member to be present at every meeting, we understand life does not always allow that. Sometimes, it is simply unrealistic to be at every meeting, especially for those hoping to be involved in multiple organizations. In order to help students who are involved in each organization, TMN's weekly meetings are co-led by each Student Media Leader (SML) from the different organizations, and each SML provides a quick overview of what is going on in their organization and how you can be involved if you find a topic or media that interests you. 
Tartan Media Network meets weekly in Kuhne Auditorium at 6:30 P.M. on Thursdays. For more information on Student Media or the Tartan Media Network, you can email any of the Student Media Leaders mentioned below: