Spring Semester Changes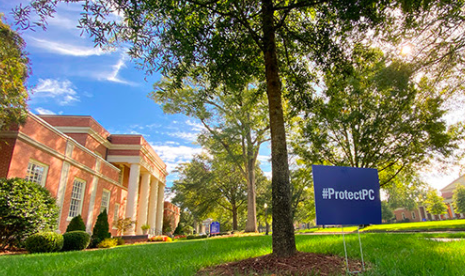 On September 24th, 2020, Presbyterian College's Provost, Don Raber, sent out an email to all students, staff, and administration. This Provost's Update was largely focused on changes to the Spring 2021 Academic Calendar changes in response to Covid-19.
The most important change will come at the start of classes for the Spring Semester, which is being moved from January 4th to January 25th. That will result in Presbyterian College being closed from Thanksgiving to January 25th, almost two full months. Some students, who will remain anonymous for privacy, have expressed issues with this. The most common objection is safety due to Covid-19, as some believe students will use these two months to travel or party. One student is quoted saying, "I do not see the point in getting [a job] for just those few weeks. Even if I get a seasonal one, I basically have all of January. I'll probably go on a trip…with some friends!"  
Another important change that students have expressed concern about is the removal of Spring Break. Yes, Presbyterian College will not be having a Spring Break for the Spring 2021 Semester. As the Provost said in his guide, "To minimize travel for everyone on campus, there will not be a Spring Break this year. Spring Break trips for students and faculty will be postponed or rescheduled." This has also impacted Maymesters which are going to be postponed as well. Students have expressed their disapproval, arguing that Spring Break is needed for students to relax and destress before final exams. 
One student argued, "We need our freedom. If you don't let students have something to look forward to, they're just going to party or fight one another on campus!" A recent petition on Presbyterian College's campus, which calls for more weekend activities and less restrictive guest policies, echoes this sentiment as it argues that students need social time in order to remain productive and efficient in college courses and extracurricular activities. It is important to note that Presbyterian College will not be holding classes on Friday, April 2 (Good Friday) or Wednesday, April 21 (Honors Day).
Presbyterian College has also made changes to the date of Commencement. It has been pushed from its original date, May 8th, to Saturday, May 15, 2021. The last day of classes is scheduled for Wednesday, May 5, and exams will run from Friday, May 7 through Wednesday, May 12. The final day Residential Facilities will be open to undergraduate students will be May 13th and for Seniors it will be May 15th. Seniors will finish Finals prior to May 11th when grades must be reported, allowing them a small time to be on campus without having to worry about class or finals. 
Many students may be concerned about the changes made to the Academic Calendar, but Presbyterian College is attempting to balance happiness with student safety. The Covid-19 Pandemic has put PC students, faculty, and staff into a state of uncertainty, but it is important to remember that PC's top priority is the safety of its students, both on and off-campus.