Your vote matters
"We have been too quiet for too long. There comes a time when you have to say something. You have to make a little noise. You have to move your feet. This is the time." – John Lewis
College students have the loudest voices in society, but the quietest voices when it comes to voting. With the upcoming Presidential Election on November 3, 2020, we must keep in mind the important information and deadlines leading up to Election Day. First, and most importantly, the online voter registration deadline is Saturday, October 4, 2020! 
There are a couple ways to register to vote: your driver's license through the state DMV website (SC: https://info.scvotes.sc.gov/eng/ovr/start.aspx) or an online PDF paper form (SC: https://scvotes.gov/sites/default/files/VR%20Blank%20Form.pdf). Hard copies of the paper voter registration forms can be found by your local county election office. College students can use their college resident or their "home" residence as their primary residence for voter registration purposes. If a college student has moved, he or she MUST update their voter registration information, which can be done online (https://info.scvotes.sc.gov/eng/ovr/start.aspx) or through a form that will need to be submitted to your local county office (https://scvotes.gov/how-register-absentee-voting). 
There are two options for voting absentee by mail. The first option is an Application Form, which can be found at https://www.scvotes.gov/. Fill the form out and submit it to request a ballot. It can also be requested by phone or email. With a printer, the form can be downloaded. The second option is to Submit a Ballot.
The ballot delivery deadline is as follows: your county election office must receive your ballot by 7:00 p.m. on November 3 for your vote to be counted. 
You can check the status of your application and absentee ballot online at SCVotes.gov under Check Your Absentee Ballot. 
Voting absentee in person will be offered up until October 5. 
On Election Day, polls will be open from 7 a.m. to 7 p.m. Confirmation of your polling destination can be found at https://info.scvotes.sc.gov/eng/voterinquiry/VoterInformationRequest.aspx?PageMode=AbsenteeInfo. 
Other resources for voting information are available at Rock the Vote, Vote.org, The League of Women Voters of Greenville County, and When We All Vote. 
There are many ways for students to take action to promote voting and protect elections. Students can volunteer with the NAACP to reach out to Black voters (https://blackvoiceschangelives.org/). Students can also volunteer to be a poll worker at voting sites on November 3rd, and they can encourage others to serve as well (https://scvotes.gov/poll-manager-information).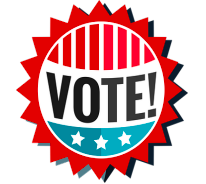 If you encounter any problems as you attempt to cast your vote, please contact the following resources: your County Election Office (https://www.scvotes.gov/how-register-absentee-voting) or  the Election Protection Helpline: (866) 687- 8683 ((866) OUR-VOTE). 
Also, please take the short amount of time to complete the 2020 Census questionnaire at https://2020census.gov/en.html. Every ten years, the Census records everyone living in this country through a questionnaire that serves many purposes, such as to inform funding services that affect the community. Also, the Census determines resources such as congressional representation. 
The Census is required under the United States of America Constitution, and it ensures fair political representation. For those who may say "my vote doesn't count", the Census shuts down that way of thinking very quickly. The U.S. Census is used to allocate seats in the U.S. House of Representatives, determine the amount of Electoral College votes for each state, and create electoral lines. 
As the late Congressman John Lewis once stated,"My dear friends: Your vote is precious, almost sacred. It is the most powerful nonviolent tool we have to create a more perfect union." Remember as we approach Election Day that your vote is your voice!