Farewell to Bob: An exclusive interview with President Staton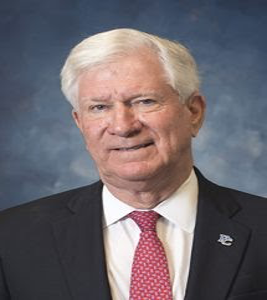 Since the founding of the college in 1880 by Dr. William Plumer Jacobs, Presbyterian College has had 18 presidents serving the students, faculty, and staff of the college. Beginning next year, the college will be led by its nineteenth president.
PC's most recent and 18th president, Bob Staton '68, announced earlier this year that he plans to retire at the end of December 2020, serving a five year term as president since July of 2015. Ever since his graduation from the college in 1968, Staton has been involved in one capacity or another, such as serving on the board of trustees, chairman of campaigns, serving in the College's Administration, and earning another degree from the college in 2015 as a honorary degree for public service.
Staton's time as President at PC has been a productive one, as well. Since taking over as president in 2015, Staton was responsible for overseeing the college's strategic plan, The Promise of PC, which created the Physician Assistant School, apartment style housing for seniors, and the renovation of Bailey Hall for the start of the college's Occupational Therapy. The Promise of PC also carried out the renovation of Laurens Hall for student life offices and the mail center, and the renovations of the Springs Student Center, which now includes two levels of gym equipment and more comfortable seating on the first floor. 
Staton's time as president also saw the class of 2023 become the largest freshman class to attend PC since 2009, the creation of new majors and minors, addition of more faculty and staff, and the addition of men and women's wrestling, acrobatics and tumbling.
Despite these accomplishments, in an exclusive interview with The BlueStocking, Staton felt that right now was the time to retire. In fact, Staton said that his original plan was to be President for no more than a year.
"When I came to PC in the summer of 2015, I was planning to serve as President for six to 12 months. It has now been five and a half years, plus I am now 74 years old. During the last five-plus years, we developed and began implementing our new strategic plan, The Promise of PC. If you go back and look at the address that was given in November 2017, you will note that together we have accomplished most of the objectives laid out in the address. We have worked to enhance our academic programs, the support we provide our students, and our facilities to create a more student-centered campus. We've done this all while carrying out PC's mission," Staton said.
"There is never a good time to leave a place that, since I arrived on campus in 1964, has been and always will be a place I call home.  While we've made good progress, there is much work to be done. But now is a good time to bring fresh eyes and leadership to continue to move PC into the future. Plus, it's time for Phyllis and me to spend time with our five children and their spouses and our seven grandchildren."
Even though Staton won't be president in January of next year, he did admit something he will miss about the college: seeing the faces of everyone on campus, especially the student .
"I have enjoyed being the president of PC, and I've enjoyed it so much because of the students. Getting to know our students and watch them learn, compete, mature and grow over their time at PC is the most rewarding experience of my life. It's also been a privilege to get to know their families.  We have great people working on our campus, and it has been a privilege to work with and get to know and see their incredible talents at work" Staton said.
Despite seeing the faces of his students and staff, Staton said that his job has been both easy and hard since taking over as PC's 18th president.
"The easiest part of my job has been waking up each day excited to be on campus and working with others to strengthen PC and better serve our students. Sharing the PC story with prospective students and their families, alumni and those interested in supporting our mission has also been something I've thoroughly enjoyed," Staton said.
"The toughest part of any job is having to make and communicate decisions which impact PC and members of the PC family. That includes students and their families, faculty and staff, alumni, the Clinton community and all those who care about PC."
As of right now, the college has appointed Dr. Raynal to conduct the search for PC's 19th president, a process that is still underway and is expected to be concluded by the end of the year. 
Staton said that he's not involved in the process of selecting a president in any shape or form.
"Let me acknowledge that I am not, nor should I be, involved in the search for our next president. Our board is dedicated to PC and has established a search committee to find our next president, and they will do a great job. Each of us needs to welcome and support our new president" Staton said.
Whoever becomes PC's next president, Staton's biggest advice to him or her is to know what PC is and what the community is about, as well as leading the college forward.
"The next president will need time to get to know PC and determine how they will move the college forward. I would encourage each of us to remember that our new president is responsible for the whole of PC, not any one particular aspect. It is a challenging job, but I am confident the next president will provide good leadership in growing and strengthening PC in the days ahead.  When you leave a leadership role, it is important that you do not get in the way of the new leader. While I will also be available, if the new president needs something from me, I will not be hanging around or second-guessing our new president. Remember that PC is my home. The next president will be my president too and will have my support."