Despite painful loss, plenty of football left in the season for PC
It's the sportswriter's curse. Making a prediction that doesn't come true.
Prior to the Presbyterian College road contest at Campbell last Saturday, I predicted on my WPCX podcast, The Mitch Zone, that PC would squeeze out a 38-35 win over Campbell for their first road win of the season.
My bad.
After scoring 84 and 68 points, respectively, in their first two games of the season, the Blue Hose instead laid an egg at Barker-Lane Stadium last weekend, getting shut out 72-0.
As a life lesson to everyone moving forward: Never underestimate the Fighting Camels.
Now I had reasons for my pick. The Hose had huge positive momentum in their favor after two lopsided wins at home. On the other hand, the Campbell squad was 0-2 heading into the game with losses to Elon Phoenix and (former Ole Miss) Coach Hugh Freeze's Liberty Flames.
All signs pointed to a PC victory.
But two weeks after covering himself with glory by throwing a record 10 touchdown passes, Quarterback Ren Hefley threw seven interceptions while the Blue Hose committed one mental error after another throughout the night.
All in all, it ended up being a long night for the team.
While some may view the loss as horrendous, I'm not turning into a Debbie Downer.
Scholarships. They are the main difference between the Blue Hose and the Camels: Campbell has them; PC doesn't. Yes, PC scored a combined 152 points in their first two games—against lesser opponents—but at Campbell, they were playing a team with more skill at all position units.
Plus, Campbell Coach Mike Minter is highly respected. As a former standout safety for the Carolina Panthers, Minter has always fielded teams that have been competitive, despite his overall 36-46 record.
Looking to the PC side of things, there's still a lot of football left to be played. The Pioneer Football League portion of the regular season opens Saturday afternoon as the Blue Hose take on the Dayton Flyers. And that's good news for PC. There's relative parity between all the PFL squads, and even with last week's loss, the Blue Hose are in second place behind the Stetson Hatters with eight more games in the season to go.
Kelley has a long haul ahead of him if he wants to break the 16-year drought since PC's last conference championship in football. At The Mitch Zone, we'll be covering all the action.
Kelley's potential to take the Blue Hose to heights the program has never seen before is undiminished.
Leave a Comment
About the Contributor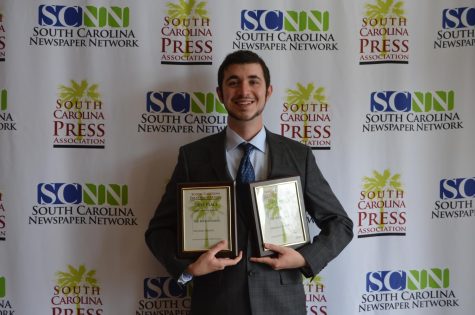 Mitchell Mercer
Mitchell Mercer served as the editor-in-chief for The BlueStocking from 2022-2023 after wearing hats as a staff writer and sports editor in the three...