The BlueStocking Recognized by South Carolina Press Association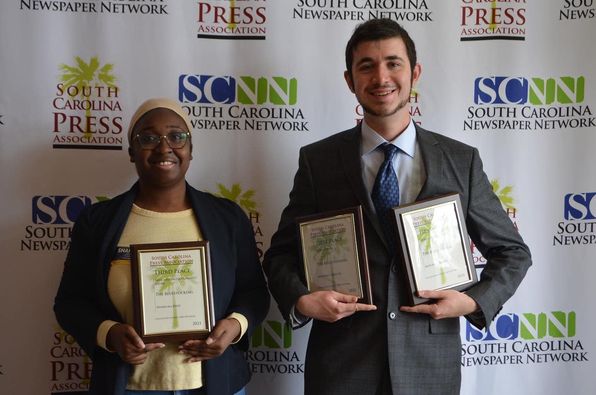 For the first time in the paper's history, The BlueStocking is earning significant recognition for its work.
The BlueStocking newspaper staff is proud to publicly announce that the paper has earned three awards from the 2021 South Carolina Press Association's collegiate contest. 
Sports Editor Mitchell Mercer earned two first-place finishes for best sports story and best sports photograph respectively in Division I. He earned the awards for his story on PC Baseball coach Elton Pollock getting the baseball field named after him, as well as photographs from the team's ring ceremony for their Big South Tournament championship last summer.
The winning photo is President vandenBerg hugging Coach Pollock for his recognition.
Business Manager Sharecka Byrd earned a third-place finish in Division I for arts and entertainment story, with her winning work showcasing students who spoke about the importance of diversity and inclusion on campus. 
The story covered PC's Office of Diversity and Inclusion's oral contest of "What Does Diversity & Inclusion Mean To You?" and featured numerous PC students discussing their own personal experiences off and on campus.
Mercer and Byrd, as well as the entire staff, received their awards in-person at the SCPA Collegiate Award Ceremony in Columbia on March 18th.
SCPA's Collegiate Contest is a competitive competition, with approximately 12 student-led college newspapers in the state submitting a combined total of nearly 3,000 entries each year. 
Schools are also judged through different divisions based on enrollment. Division I features schools with a student enrollment of under 5,000 and Division H features schools with an enrollment greater than 5,000.
The BlueStocking staff would like to thank every member of the PC community for their continued support and reading of the newspaper campus-wide.