A Lost Legacy: Legendary PC Tennis Coach James Shakespeare Recognized for Contributions
Presbyterian College has produced a number of strong athletic teams over the course of its school history, with numerous championships, players and coaches.
Sometimes though, it can be very challenging to honor these teams from the Blue Hose archives, especially when decades have passed.
Luckily, with the help of several former players, a notable PC legend was recently recognized for three specific achievements to the College: a strong tennis player, a fierce coach and a caring English professor.
Former Blue Hose tennis Coach James Shakespeare ('59) was honored for these traits at a special luncheon on April 9th where many current and former members of the PC family acknowledged him for his strong contributions.
Milan Kofol ('73), a former PC tennis player who played for Shakespare, believes that now is the time that his accomplishments are to be honored. He helped organize the entire event as well as getting an official resolution from the school's administration.
"I felt that he had not been recognized by PC and deserved recognition. I reached out to a number of the players from the 1971 [Blue Hose] tennis team and even the 1957 team. They were enthusiastic in supporting Coach Shakespeare's recognition by Presbyterian College and they were forthcoming in creating the recognition," Kofol said. "[President] Matt vandenBerg supported the resolution, signed the resolution, and also provided a video of recognizing James Shakeapeare." 
Another teammate of Kofol, Howard Pierce ('72), also worked with several former members of Shakespeare's team to plan out the event, including James' wife Mary, to coordinate something that needed to be held.
"The whole idea is really a recognition for his service as a coach, an English professor, and the ways he touched so many lives. He's one of those individuals who a lot of men who are here and all over are better people because of him. We didn't want time to pass and not do something special for him." Pierce said.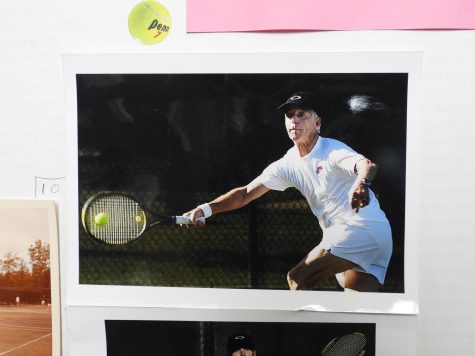 In terms of his impact on the college, James Shakespare made his first major steps into the history books when he earned a scholarship to Presbyterian College in 1956 as a player.
Even though the freshman had to sleep in the school's gymnasium due to his main dormitory, Bailey Hall, being under renovation, he still provided strong grit and toughness on the courts, which won the team four consecutive South Carolina state tennis championships with the help of strong teammates in John Brownlow and Harry Hoffman.
However, his most notable achievement at the time was playing a crucial role in defeating a very strong Miami (FL) tennis team in 1957 that had numerous star talent. It was the only loss the Hurricanes had in 200 matches over 12 years.
After graduating from PC in 1959, he returned to the College in 1966, this time as a strong coach. Unfortunately, the program's identity took a stumbling block after he left, and a new voice was desperately needed.
Following the recruitment of several good players, Shakespeare built one of the most successful teams in PC's history from 1966-1974, with six NAIA All-Americans and five top-three finishes in the NAIA national championships. He was also named the NAIA Coach of the Year in 1974.
One of those key players was Kofol himself. After moving to New York from Czechoslovakia in the late 1960s and winning a state championship, he was recruited by Shakespeare to Clinton alongside his brother, something he enjoyed every minute of.
"James Shakespeare is a wonderful coach. He recognized my ability to play tennis and was always supportive of my training. I spoke very little English one year after I immigrated, and he was very helpful in my transition from a communist-Czechoslovakia to an American way of life. He's not only a very good coach, but a very good human being," he said.
Pierce, who was also a part of those successful Blue Hose tennis teams, remembers how much of an impact he had on him personally, including as an professor of English and his support of all student-athletes.
"James was like a father. He was somebody that we could always talk to. He touched so many different lives. He's known by so many people and left a mark on PC. There've been so many people at PC that have touched my life, including many professors, but being a professor and a coach, that was a special combination a person could have. James was like that and his family was the same way. It was like a big family," he said.
Even though most of the events have occurred five decades earlier, Kofol strongly believes that all PC graduates, no matter what profession they occupy, should be recognized for their strong works.
"I think it's important for future tennis players and PC graduates to be recognized. The students feel that if they do something worthwhile for the College, then they will be recognized for their accomplishments. If we don't recognize accomplishments of people, then what's the point of doing anything? If people do something well, then they should be recognized," he said.
Currently being 66 years old and in attendance for the event, Shakespeare had a simple message for what it was like to be honored for his strong achievements to the College.
"To come back to the school and see what they have all done compared to when I came to Presbyterian College, it's overwhelming," he said with a happy simile.