Ten Years Later: Former Miss South Carolina, Laurens Native Ali Rogers Fauntleroy, Reflects on Journey to Success
Each year in the United States, more than 2.5 million women compete in various pageants, from local high schools to national ones such as the Miss USA organizations.
Oftentimes, regardless of experience, participating in pageants can offer a wide range of exciting opportunities, especially for a former pageant queen and Laurens County native.
Ali Fauntleroy, formerly known as Ali Rogers, is coming up on her ten-year anniversary of being named Miss South Carolina through the Miss America corporation in 2012. She also held the titles of Miss Laurens County Teen 2009, Miss South Carolina Outstanding Teen 2009 and Miss Laurens County 2012 prior to earning her most memorable accomplishment in her pageant career.
Fauntleroy currently lives in Greenville with her husband Will and their son Noah. She works as an account manager at a marketing and public relations agency in the city while also going through the day-to-day activities as a working mom, which includes getting up early, dropping her son off to daycare and performing her job duties at her office.
While her focus is currently on helping raise a successful family, the former title holder is still reminded of her magnificent resume from time to time and the importance of her actions during her time as Miss South Carolina.
"Last week, someone at a Chick-Fil-A recognized me since I spoke at her middle school ten years ago and asked for a picture,"  Fauntleroy said. "That sort of stuff is a reminder to me that not only did I make an impact ten years ago as Miss South Carolina, but it still carries over to this day and I'm very cognizant of how my words and actions impacted people."
Life in Laurens County
Prior to her long list of successes, Fauntleroy's upbringing goes all the way back to Laurens County. Living in the same household that her parents built, Fauntleroy's lifestyle consisted mostly of family-oriented activities.
"We lived back in the country with a lot of family around us, with everyone for the most part living within a two mile stretch. Since we had lots of family gatherings, I joked with my friends back in town that they would rather bike up the street to see their friends and I would drive my four-wheeler to go see my cousins," she said. "It was a good upbringing since we were always family-centric and family-oriented."
Outside of a strong family, Fauntleroy participated in a number of activities as well. 
She attended Laurens District 55 High School where she participated on the Raiders' varsity golf and softball teams. She also was very active at her church, First Baptist Laurens, where her mom has served as the minister of music for over 25 years.
"I grew up very involved with First Baptist Laurens and I loved growing up in Laurens and going through Laurens County School District [55]. Sports were also a big part of my life as well," Fauntleroy said.
Taking a Chance
Despite being involved in various interests growing up, Fauntleroy decided to enter something that would ultimately give her great opportunities she never would have imagined: the pageant world.
She wasn't sure if it was something she wanted to do at first, but she ultimately decided to try it out, with her first pageant competition being held at her high school. Not only did Fauntleroy win her high school pageant, but she won her first major pageant title as Miss Laurens County Teen 2009, which was brought back after a period of hiatus. 
Furthermore, the title also led her to be named Miss South Carolina Teen 2009 and Miss America's Outstanding teen, where she would earn a top-ten finish at the Miss America Teen pageant. 
"My first pageant was my high school's [Laurens District 55] during my junior year, which gave me a glimpse of the pageant world for the first time. So from there, I decided to compete for Miss Laurens County Teen," Fauntleroy said. "The pageant had just been brought back that year and I was very green to the pageant world, but I won Miss Laurens County Teen, which took me to Miss South Carolina Teen. After winning that, it led me to Miss America's Outstanding Teen, where I had a top-ten finish there. Competing for my high school pageant and winning that was the thing that lit the fire for me competing in the Miss America organization."
While she enjoyed winning those titles, Fauntleroy benefited more from scholarship money, which is something that Miss America provides to contestants that compete in their pageants based on certain placements. From there, Fauntleroy earned as much as $62,000 in scholarship money, which was used towards her degree at Clemson University, where she majored in Communication Studies.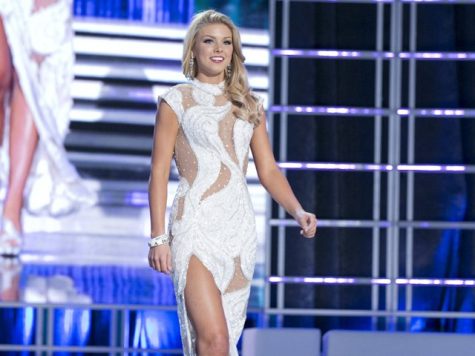 Miss South Carolina
During her sophomore year at Clemson in 2012, Fauntleroy decided to go back into the pageant wheel and the Miss South Carolina organization, returning to where it all started back in Laurens County.
Not only would she go on to represent Laurens County again as Miss Laurens County 2012, but she would ultimately earn the highest title of them all, Miss South Carolina 2012, thanks in large part to her platform of supporting children with disabilities and her compositional talent in piano.
While some might have the impression that being Miss South Carolina is an easy gig, Fauntleroy states it's entirely the opposite, even saying that the job can involve a lot of sacrifices.
"Miss South Carolina is required to take a year off from school or the workforce, so I spent that year promoting my personal platform in making a difference in children with disabilities. I traveled anywhere between 10-20 events a week. I was also on the road five to eight hours a day with multiple speaking engagements, so it is certainly a full time job. I didn't have a single day off until April. It's a grind and it is not as glamorous as people think it is," she said. "I spent a lot of time on the road by myself and there were a lot of times with me getting dressed at a rest area and asking strangers in the bathroom to help zip up my dress. There were a lot of stays at hotels, host families' houses, and a lot of living out of my car. It was a very busy hustle, constantly on the move. It's not as glamorous as people would assume the life of a 'pageant queen' would be."
Nevertheless, Fauntleroy continued to sail on her mission in making a difference in children's lives with her platform.
"My most enjoyable moment was the opportunity that I had to spend with kids. Whether it was at schools or a special needs center, there was no expectation with kids," she said. "For little girls especially, every one of them thinks that a crown is pretty and special. Some of them are enamored by that stuff. It was always enjoyable to be around kids since I could be myself and there were no expectations trying to uphold being around them."
1st Runner Up
As the winner of the Miss South Carolina pageant, Fauntleroy would then compete in the highly-viewed Miss America pageant in 2013, where she would continue to excel in one of the world's most popular pageant competitions.
Through many autograph, production, and rehearsal sessions, Fauntleroy would be one of two girls remaining on the stage during the final night of the event. Ultimately, Fauntleroy would come up a little short of winning Miss America, finishing 1st runner up in the pageant overall. Mallory Hagan of New York was crowned Miss America 2013 instead.
While some in her position may have been disappointed with the final outcome, she instead was grateful for the end result.
"By the time finals came up, I enjoyed the experience so much and it was so surreal during the final night standing there as the final two. I couldn't have been more thrilled for Mallory [Hagan] and I think I would've been more shocked to have won than I was being first runner-up. Even to this day, I feel that being first runner up is the best position to be in," Fauntleroy said. "My year as Miss South Carolina was wild and I was on the go with a full plate. I couldn't imagine what serving as Miss America would have been. Of course it would have been an incredible opportunity, but I was thrilled to go back home to South Carolina and continue to serve my state."
Life Today
Now known as Ali Rogers Fauntleroy, her day-to-day responsibilities include raising her two-year old son alongside her husband, while working a full-salary job.
Ultimately, she decided that the Miss America 2013 pageant would be her last pageant that she would compete in. As of right now, her main desire is to accept the realities of being a working mother.
"I love life as it is now. I love being a working mom and I'm still involved with the organization as the 'forevers' or 'have beens.' I'm still involved with the organization, but my competing days were over ten years ago and I'm happy for my competing days to have been over," Fauntleroy said. "Life as it is currently is sweet and simple and I'm enjoying all the fun and excitement being a working mom brings to my life now.'
While she has no plans to return to the pageant industry, Fauntleroy still is grateful for the opportunity and wants to be a strong role model for many women out there that are interested in competing in pageants across the country,
"I had a brief stint in the pageant world, but it was an impactful time in my life for the experiences I had. It was just sort of a different entry than most 'pageant girls,' but I'm very thankful for what led me to be involved with the organization," she said. "Part of what made me who I was as Miss South Carolina was really the fact I wasn't a 'pageant girl,' and that is something that carried me through my years."