Blue Hose Volleyball Looks to Compete in Tough 2022 Big South Championship Race
With conference games set to start this week, the Blue Hose volleyball team is certain to continue in its quest of being one of the top teams in the Big South conference for the upcoming year.
A strong 2022 signing class, adjustments to the coaching staff, and a recent team academic award are some of the positive things that players are hoping will continue to roll into the conference portion of the regular season.
"Overall, I think the vibe around the team is excitement. All of us are determined to have this season be better than the last and make it to the conference tournament again," setter Kinsey Bailey said.
Bailey is heading into her third season with Presbyterian. The junior recorded 187 assists in 12 matches played last season and was recently named a team captain alongside defensive specialists Abby Sparkman and Anna Hewitt.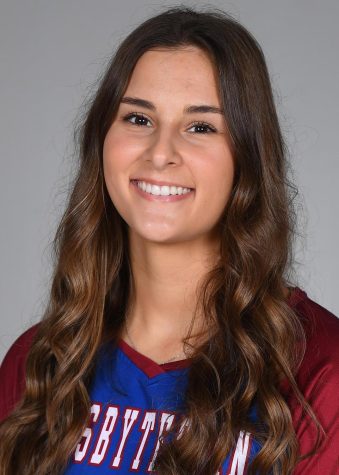 Even though the Blue Hose had a strong contributor in Erin Cooke as a Second Team All-Conference selection with 273 kills in 2021, Presbyterian finished with an average 12-15 (7-9) record. Additionally, Cooke will not be on the sidelines due to graduating this spring.
Nevertheless, alongside Bailey, head coach Korrin Burgess believes that there are several players on the Blue Hose roster that can fill Cooke's absence.
"From a setting standpoint, Kinsey Bailey will look to fill the role and we added two freshmen, Anna Baranski and Aliza Hart, that will compete for playing time," Burgess said. "I'm excited to see what Rylee Moorhead has in store for her sophomore season after earning All-Freshman Team honors. I'm also looking forward to seeing our two junior middle blockers, Hailey Grocholski and Jordan McAda, rise to the challenge of being upperclassmen now."
Another key contributor, senior Paige Cairns, is coming off a 120-kill junior season with 25 digs and 29 blocks in 23 matches. The Georgia native was also named to the Big South All-Academic team as a biology major and is expected to play a huge role for PC.
"I think our biggest challenge to overcome can be ourselves at times. We all are very competitive and when we fail to meet some of our team goals, we can get in our heads. Knowing that, we acknowledged that weakness and worked insanely hard to eliminate the mental blocks that faced us," Cairns said.
However, the non-conference portion of the season was a challenge for PC.
The Blue Hose are currently 4-8 and have suffered blowout losses to Clemson, Furman, and Appalachian State.
In conference play, PC will attempt to come out of the middle of the pack of the conference standings and into the top half. Five Big South teams (High Point, Campbell, Winthrop, North Carolina A&T, and USC Upstate) all finished ahead of the Blue Hose with better conference records in 2021.
Nevertheless, optimism still lies in Clinton, and the team believes 2022 is the year the program will take another major step out on the court.
"Mostly, it is just going to take investment. 100% investment from everyone is going to be an absolute necessity. With that being said, we absolutely have the talent to move up in the conference and need to focus on having the confidence in our abilities to do so. Along with investment and confidence from each of us, support from everyone else will only make our chances stronger," Bailey said.
For Cairns, as one of three seniors on the roster, she wants to make sure that she gives it all she has in her final season at PC.
"I obviously have a lot of technical goals that I want to reach. However, my main goal is to have no regrets and leave it all out on the court. In my previous seasons, I found myself at times being afraid to make a mistake. This upcoming year, I am focused on coming in with the confidence and solid technique that will not only make my last season more fun but will help win more games," Cairns said.
The Blue Hose will take on USC Upstate in the Big South opener Thursday night at 6:00 PM in Templeton Gym.