Pulling the Rope: Englehart Looks to Reestablish PC Football Brand
Football season has kicked off for Presbyterian College as well as the presence of a new headman on the sidelines.
Steve Englehart is now in charge of running the Blue Hose football team. The 45 year-old is overseeing his third college football program in his 20-year coaching career, after previous head coaching stops at Florida Tech and Rose-Hulman.
Even before coming to take the job in Clinton, Englehart had his eye on Presbyterian for quite a while. In 2016, his Florida Tech team traveled to Presbyterian to earn a 28-7 victory over the Blue Hose. But what impressed Englehart more besides the win was the school's overall campus environment and its people.
"When I was at Florida Tech, we played Presbyterian in 2016. I remember playing here since Harold Nichols was the head coach and Tommy Spangler was the defensive coordinator. I had a lot of respect for those guys and what they were starting to do with the program moving from Division II into the Big South," Englehart said. "I always thought back to the time that we were there and I had some fond memories of PC. I don't know why, but every year, I would look at PC and see how they were doing."
After applying for the job twice, Englehart was offered the job in January as Presbyterian's 17th head coach.
However, with any job comes unique challenges, and Englehart faces a string of daunting tasks that the Blue Hose have dealt with for nearly a decade and a half.
Presbyterian has failed to establish any ground within their football program ever since moving to the Division I ranks in 2007. Following this move, the Blue Hose have had a combined record of 44-119 and became a non-scholarship football program as a result of their move to the Pioneer Football League in 2017.
Despite the adversity, Presbyterian's newest coach doesn't see why the expectations for the program can't be high.
"I think what PC football needs right now is stability and I believe that's what our staff is bringing to PC. I was really blown away by the commitment from the College to be successful in football and the alumni have been way more supportive than what I initially thought it would be. We are really young and our players have been working extremely hard. It will take some time, but I can't see why the ceiling can't be to win a Pioneer League football championship," Englehart said.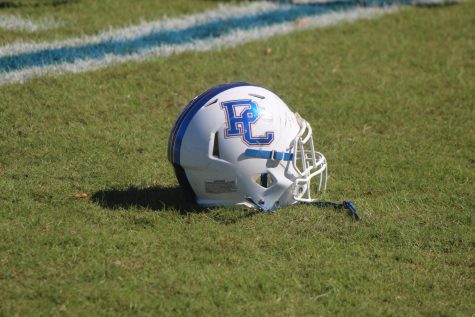 Additionally, Englehart views the Blue Hose in the same light as his previous head coaching stops.
Both schools offered little to no scholarships with Rose-Hulman being a Division III school and Florida Tech going through the transition of building a football program from the ground up. In lieu of this, Englehart never had a losing season at Rose-Hulman or Florida Tech, even making the playoffs twice alongside a bowl victory before the program disbanded in 2020 due to the COVID-19 pandemic. 
Instead, he views the limitations as an opportunity to help support potential players through the power of a college education and financial aid packages.  
"Recruiting is recruiting, and it is building relationships with families and how you are going to help their kid over the next four to five years to get them prepared for the next phase of their lives. People may think that Presbyterian doesn't have football scholarships, but they don't think about the academic scholarships that are still there," Englehart said. "In reality, we try to make it affordable when speaking to those families as best as we can."
As for an overall viewpoint, Englehart is ready to build back the Blue Hose into consistent winners. While the team is currently 1-2 on the season, the 45-year old is hopeful that the best days are in store for PC football.
"We know it's not going to be easy, but I want our guys to not give up and fight towards the end of the season. As long as they are giving effort, I think the wins and the losses will take care of themselves," Englehart said.