Roaring Costs: How Inflation and High Gas Prices Are Affecting the PC and Clinton Communities
Just over a year ago, gas prices were around $3, people spent around $412 on food a month, and the stock market began to make a recovery following the COVID-19 pandemic.
Fast forward to the present day, prices for gas have gone up nearly a dollar, groceries cost 12% more, and there are lingering fears of what's to come for the stock market, all of which are playing a key role in causing the current inflation crisis to be faced here in Clinton and at Presbyterian College.
While prices have dropped slightly over the past couple of weeks and months, costs can still be high for several students to enjoy other needs outside of their time living on campus, especially how some students' income levels vary.
"Inflation has affected me personally by causing me to buy less gas, groceries, and overall watch my spending habits more closely. Most of all, inflation concerning school has caused me to have to take out more loans than I have previously," junior Eva Hinkleman said.
Additionally, one of several local businesses in Clinton, the Main Street Bake Shoppe, has seen prices of their bakery goods skyrocket over the past year.
"When we realized that food costs were continuing to rise at the beginning of 2022, we were forced to implement a price change across the majority of our items. In doing so, we realized that some of the pre-programmed bottled drink prices in our cash register, which were left for us by the previous owners, were actually lower than the cost we were now paying for those same items. In other words, we had literally been paying our customers to take the products off our hands," Anna Ottosen, owner of the Main Street Bake Shoppe, said.
The topic of inflation can be a challenging and confusing subject for those who don't have strong knowledge of the economy. 
PC provost Kerry Pannell, who served stints as an economic professor throughout many schools in the years prior, has been studying the issue for a long time, said that inflation tends to occur based on a country's money supply and raised coasts that the government has implemented.
"Inflation can result from excessive increases in a country's money supply or from rising costs that get embedded in expectations. The negative consequences from inflation are that the increase in overall prices reduces consumers' purchasing power and creates uncertainty about prices that businesses can charge for their products and services," Pannell said. "Businesses might take a 'wait and see' attitude and postpone investments if they are uncertain about whether their products will be profitable to produce. If inflation is high, then some people try to protect themselves against inflation by purchasing unproductive inflation hedges."
While gasoline and housing prices have fallen over the past couple of weeks, according to Pannell, the inflation rate is currently around 8%, which measures the consumer price index.
Unfortunately, Pannell does see a chance that the United States could face a recession as early as next spring.
"It's still possible that the economy will go into a recession. If the U.S. economy goes into a recession, it will probably do so by next spring. The housing market is already responding to higher interest rates, which means that house prices are starting to fall in some cities," Pannell said. "Whether the economy goes into a recession depends on how much overall spending declines due to higher interest rates. I am concerned that businesses might decide to dramatically cut back on their investment spending because of higher interest rates and with the possibility of a recession."
With the concern of a looming recession, it doesn't bode well for both the PC and Clinton communities.
For Hinkleman, who currently lives in Asheville outside of school, says that driving from Clinton to North Carolina in a two-hour window is a lot more expensive, with gas prices varying high in certain places.
"Last year, I went home almost every weekend or every other weekend. With rising inflation, I go home much less than I did last year," Hinkleman said.
As for Ottosen, trying to make profits off her business can be a massive challenge for her workers and her family, which concerns her about the future of her business that she and her husband has owned since November of 2021.
"Unfortunately, the modest increase in prices was barely enough for us to stay ahead of the food costs. Profit margins in the restaurant industry are notoriously thin at the best of times, so we have felt the pinch this year more than we thought possible," Ottosen said. "Our biggest fear as a business is having to close the doors because we can't keep up with the cost of inflation. Secondary to that, we fear losing our loyal customers due to continued price increases. People simply won't be able to afford to go out to eat if inflation continues trending in the same direction, and it would represent a huge loss for the Clinton community for any one of our local restaurants to have to close as a result."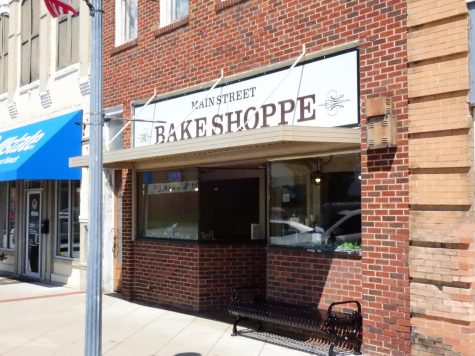 In terms of what has caused inflation to occur in the economy, the answer has been a debatable one.
Economists have pointed to the Russian war on Ukraine as a factor in the economy suffering and for certain supplies being a lot harder to obtain from central Europe and Asia through trade.
Debate over state governments passing inflation stimulus checks have caused great concern that the money will cause more harm than good in the long run.
Across the country, Republicans have slammed President Joe Biden for his economic agenda and more recent plan of addressing student loans forgiveness as something that could make the inflation crisis worse.
But according to Pannell, there isn't one factor in particular that caused the economy to be in a tough situation. Instead, she states that it is more of the U.S. government not reacting quickly to handling certain economic policies.
"The current inflation rate in the U.S. is a result of many factors, but the main problem now is that the federal government did not respond quickly enough to tighten monetary policy. They should have begun the process of increasing interest rates a year ago," Pannell said.
However, the question of low long of an inflation risk to the economy is unknown at this time.
"It's impossible to say exactly how long because too many outside factors could change things. Of course there are many bad surprises that could happen too. That's what makes it very difficult to forecast what will happen in the economy," Pannell said. 
But there is a possible chance that light is at the end of the tunnel.
Pannell stated that students should try to share resources with friends and family as much as possible. For graduating seniors, they should be looking for a salary-based job after school to handle the high prices that stores are currently displaying.
"It's always a good idea to comparison-shop, particularly for big-ticket items, and share resources with friends and family whenever possible. The most important negotiation that students can do right now, especially for graduating seniors, is to make sure you have a good offer of a salary or wage for any job opportunity you accept. Employers know that they have to offer higher salaries to good employees to compensate for inflation," Pannell said. "I would advise to ask potential employers whether there has been an inflation adjustment, and whether there will be cost-of-living increases in the future."
Despite the current situation with the economy right now, Pannell has optimism that the situation will play itself out in the end.
"The good news is that U.S. companies and financial markets are resilient. Workers in the U.S. are resilient too. Because of this resilience, I'm a long-run optimist on the state of the economy," Pannell said.
For people like Hinkleman, she also has hope for the economy and for people suffering during these difficult times.
"I have hope that this will get better sooner rather than later. I have this hope for the people who have been affected most by inflation," Hinkleman said.