All-American: Blue Hose Men's Wrestler Earns Prestigious Honors
The Presbyterian College men's wrestling program has seen a number of its wrestlers earn recognition for their strong skill sets over the past couple of years.
Recently, one Blue Hose wrestler received accolades for his performances and now gets to have two significant words beside him: All-American.
Junior Dominic Chavez earned All-American Honors at the U23 World Team Trials, a national freestyle wrestling competition for wrestlers under 23 over the summer. Chavez is the first wrestler in program history to earn All-American honors, and the competition was also the first freestyle wrestling competition that the Blue Hose competed in.
Prior to making PC history on the wrestling mat, Chavez started his journey growing up in Arlington, Texas. He began wrestling at four years old when his mother found a flyer about wrestling and enrolled him and his older sister into the sport.
Through his high school career, Chavez began to make a name for himself, eventually catching the eye of Mark Cody, PC's Director of Wrestling. He was impressed with Chavez and saw him as someone who could be a "pioneer" for the Blue Hose wrestling program.
"In high school, Dominic [Chavez] was one of the top recruits in the country," Cody said. "We were really excited to get him." 
During the recruiting process, Chavez was impressed with Cody's focus on academics. Cody's emphasis contrasted with the other schools that Chavez visited.
"All the other coaches where I went to visit were more focused on how I would do wrestling wise," Chavez said. "What made me come to PC was Coach Cody [and] the way he was more focused on academics than he was into wrestling. I knew that he would help push me to do better academically."
On campus, Chavez appreciates the relationships that he and his teammates have with each other, their coaches, and their professors that they encounter daily. He enjoys getting to know his professors more and appreciates that they are always willing to help.
"Everyone bonds with their team, kind of like a family. When I had tournaments and stuff, [my professors] were really flexible," Chavez said.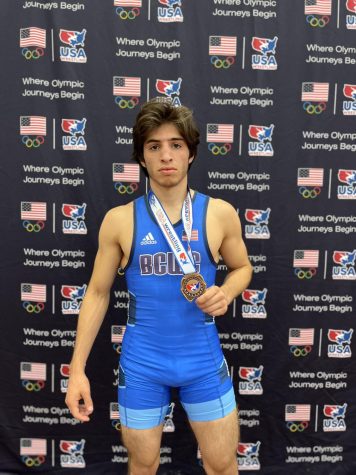 On the wrestling side, Chavez felt that he did not do as well in his season competitions as he did at U23. This was due to the fact that he competed up a weight class in his season competitions but dropped a weight class for competing in U23. Chavez was excited to do freestyle wrestling and felt prepared.
However, training with his teammates was different for Chavez, as they were less experienced with freestyle than he was.
"I really wanted to do freestyle [since] I did it back in high school," Chavez said. "It was kind of hard training with my teammates because they didn't know how the score system works or the terms. I was showing them moves."
Additionally, assistant coach Brian Vutianitis worked out with the wrestlers four days a week, doing lift exercises in the mornings. Chavez believes that these lifts aided him in the competition.
"I think because I lifted every morning with Coach Vutianitis, it really built my muscles up and got me stronger and more prepared. I felt stronger than most of the kids I wrestled, and I think it was because I was lifting in the morning," Chavez said.
At the U23 World Team Trials, Chavez was one of six wrestlers from Presbyterian to compete and one of two to make it to the second day. He finished in the top six at the tournament, allowing him to earn the prestigious All-American status.
Zachary Sheaffer, the head coach of both the Blue Hose men's and women's wrestling programs, believes that Chavez was well-prepared for the tournament and was happy to see him earn All-American Honors.
"As a coaching staff, we were super proud of Dominic," Sheaffer said. "He has put in the work and earned it."
All-American honors gives Chavez a higher status for future wrestling competitions, and the Texas native is hoping to build on the recent success in other areas as well.
"I'm still debating what I want to do with that," Chavez said.
With two more years at the helm wrestling in Clinton, Chavez's two goals are to win an NCAA competition while double majoring in accounting and business administration. Further, he is looking to pursue a master's in accounting, perhaps while continuing his wrestling career.