America's Innovative Service College: PC Unveils New Marketing Strategy
Throughout its 140-year history, Presbyterian College's motto has been Dum Vivimus Servimus, While We Live, We Serve.
For PC's new blueprint, it will emphasize the term "service."
On Friday, October 21st at Belk Auditorium, school president Dr. Matthew vandenBerg announced a new marketing strategy that will officially call PC "America's Innovative Service College." The move comes as PC developed its strategy over the course of 2021-2022 school year, with input from 3 Enrollment Marketing, a representative from PC's core team, and seven volunteer working groups to come up with a plan for the school's future.
"It was mainly to launch a new strategic position (in the market) for the college, to share our new strategic plan to achieve that market position, and to make a number of announcements that show we're already making tremendous progress toward that plan," PC president Matthew vandenBerg said.
For nearly two years, vandenBerg and various working groups began visioning on how to lead PC through an ever-changing 21st century as a liberal arts college. Ultimately, they felt that changing the way Presbyterian markets itself to students across the country was the best route to take.
"In these fast-changing times, we know that the best strategic plans blend specific actions with sufficient room for adaptation. For that reason, our plan features an evergreen format, which calls for annual reviews, updates, and adjustments as we learn and encounter new opportunities," vandenBerg said during his speech.
In regards to the plan, vandenBerg and the working groups figured out ways PC could separate itself from the rest of the pack, especially with the challenge many secondary institutions are facing such as rising tuition, demographic changes, the importance of a college degree, and much more.
As a result of these challenges, the college's new marketing strategy will feature seven new initiatives being created for future students who attend PC: 
Interdisciplinary Innovation

Outrageous Service

America's Presbyterian College

Non-profit and Service Entrepreneurship

Justice, Equity, Diversity, and Inclusion

The Jacobs Scholars Program

The Center for South Korean and East Asian Studies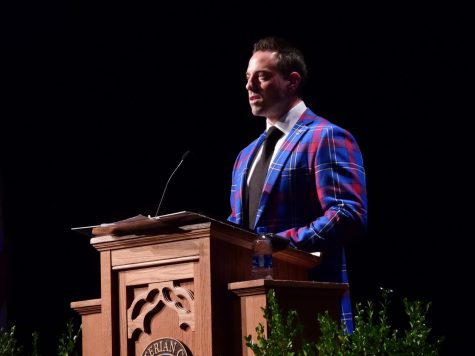 Within these initiatives, the college also provides future students many great opportunities such as PC's Non-profit and Service Entrepreneurship competition, which will be made open to all high school students across the United States and will also include a signature center for Innovation, Service, and Faith. 
"We were so thrilled with the reception we received in our first year of the competition from South Carolina students and it only made sense to extend this more broadly. The focus on service entrepreneurship resonates a long way beyond just the South Carolina state lines. We have been talking to schools and students from the Midwest, and up and down the Atlantic coast. There's a lot of people who are excited about what PC is doing in the service entrepreneurship space," Dr. Tobin Turner, an Economics & Business Administration professor and Director of the Service Entrepreneurship Competition, said.
Many other programs are also being established.
Alongside the seven initiatives, the school also announced additional projects such as the PC Flex Plan to help students graduate within three years in certain majors, the Presbyterian Promise to offer scholarship opportunities to students who attend Presbyterian Churches or Presbyterian-related schools, a Lake Campus on Lake Greenwood to promote additional opportunities, the establishment of a Blue Hose Athletic Hall of Fame, and the purchase of a trolley to take students to and from both Clinton and Laurens.
Future Blue Hose will get to experience these exciting opportunities, and they will also provide students with a great sense of what service means to the culture of PC.
"It's about service. It's about empowering leaders to make a difference in their community. In a lot of ways this is a return to our roots, not a new initiative. What it is, though, is a recommitment to this priority for PC as well as an attempt to make service extremely relevant for today's generation of students and to tomorrow's future leaders," Turner said.
For vandenBerg, this new marketing strategy and plan is a reflection of the entire Blue Hose community.
"The PC community is who developed this marketing position and strategic plan. We all own it together and will share in its success. More than 200 students, faculty, staff, and trustees helped to develop it. The position and the plan builds on authentic, historic areas of strength for the college. It's really remarkable how many people were so deeply involved in this process, and that fact is a source of pride and strength for PC and its ability to deliver on its ambitious objectives," vandenBerg said.