Morgan's Message: How One Blue Hose Student Athlete is Spreading the Awareness of Mental Health
Editor's Note: For anyone dealing with personal struggles and in need of someone to talk to, text HOME to 741741 from the Crisis Text Line  from anywhere across the United States. For suicide prevention, dial 988. For counseling services at Presbyterian College, students can make an appointment at co[email protected], by phone through 864-833-8263, or click the following link. In an emergency, dial 911.
For the past three years, Kendall Goldfarb has contributed significantly to the Blue Hose women's lacrosse program, finishing third on the team with 33 ground balls, creating 22 caused turnovers, and being named to the Intercollegiate Women's Lacrosse Coaches Association Academic Honor Roll last season for PC.
Off the field, the Florida native is also contributing her talents to a much larger crisis impacting student athletes across the country.
Goldfarb has been spreading the word regarding student athletes and their mental health with the platform Morgan's Message, a non-profit organization named after Duke University women's lacrosse player Morgan Rodgers, who died by suicide in 2019.
Since then, with help from Rodgers' friends and family, the organization has been promoted throughout several college campuses across the country, with the ultimate goal of sharing resources with student athletes, promoting safe conversations, and providing a platform to discuss the topic of mental health, sending the message that there's always someone available to talk to if needed.
"As long as you're a current student athlete, the ambassador education program allows anyone from anywhere to lead different things on campus and to raise awareness to try and show athletes that there are resources and help available in the sense that we're all in this together," Goldfarb said.
The senior has dealt with mental health issues personally throughout her life, which became heightened when she got to college.
Goldfarb struggled adjusting to being a student athlete when she started out at Florida Southern College, experiencing the grind of balancing 20-40 hours a week doing sports while also adding on 18 credit hours and the stressors that go along with it.
As a result of this pressure, Goldfarb dropped out of Florida Southern to focus on getting the help she needed. After coming back into the lacrosse scene at PC, she heard about the Morgan's Message platform from a friend of hers at Duke, which ultimately led her to create a chapter of the organization on campus, along with other members of the PC women's lacrosse team.
"I actually have a friend that plays [lacrosse] at Duke who had known about my prior mental health struggles, which brought up the fact that bringing Morgan's Message to campus was an option. I knew that when I came here, I wanted to bring in something [relating to mental health], so our team decided on if it was going to be Morgan's Message or a similar organization that dealt with the same themes," Goldfarb said. "With Morgan's Message, it was very specific since it was more in the lines of what we wanted to accomplish of being student athletes and having the goal of branching out and letting all sports [on campus] be a part of this."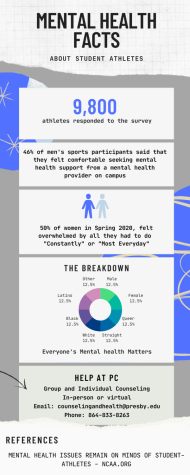 Over her past three years playing in Clinton, Goldfarb has seen a common theme of mental health struggles within the Blue Hose student athlete community, alongside her team. With the addition of Morgan's Message, more of the athletes are now realizing that there are others to talk to about their own issues.
"I've seen this a lot within my team and I've seen other athletes deal with it. I'll make posts about Morgan's Message and they will send direct messages to me and state how they are going through the same things. You then get to see how many people are suffering in silence and that there's no one to talk to until all of a sudden, one person states it and realizes that is what they are going through," Goldfarb said.
Currently, the organization meets once every month with specific events, resources, injury groups and panels associated with Morgan's Message to help athletes go through and help out with any personal matters that they might need assistance with. 
While not mandated for all athletes, Goldfarb is hoping that within her own experience with mental health, alongside a number of her fellow Blue Hose student athletes, Morgan's Message can take off throughout campus and raise awareness about the issue.
"Being a student athlete is hard and that's why I brought it here, just so I can tell a story of what a lot of people are struggling with currently and state how it's not abnormal at all. Since this campus is mostly student athletes and when you're both including a person with feelings and having that pressure to be perfect, you kind of crumble in and have no one to talk to. But with Morgan's Message, it allows us to know that there's a person out there to talk to and I think it's very important for the school to promote that," Goldfarb said.
For more information on the Morgan's Message organization as well as its PC chapter, readers are encouraged to reach out to Goldfarb ([email protected]) or visit the main Morgan's Message website today.