A Tennis Powerhouse? The Blue Hose Tennis Programs Believe It's Possible
With the spring seasons for both the Presbyterian College men's and women's tennis programs about to take place, both are highly confident that the upcoming seasons will bring much success out on the tennis courts.
Perhaps a powerhouse season if all goes to plan. 
For the women's team, last season was a little bit of a struggle for the Blue Hose, finishing with a 6-15 overall record. But with many newcomers on the roster, there is hope that 2023 can be a much better year.
McKenzie Davis, Claire Giddings, and Varvara Nikolaeva are expected to contribute as freshmen while Valentina De Sousa and Lucianna Piedra will be back in action for PC.
The men's team is coming off a winning campaign in 2022, finishing 14-11 and appearing in the semifinals of the Big South Championship. They are also approaching two years from winning the 2021 Big South Championship, with some players still intact from that season.
Max Benson, Teo Cariov, and Dusan Milanovic are all crucial pieces that will play critical roles for the Blue Hose in the spring. Freshmen David Mamalat and Austin Skoog are also expected to see major game action.
"We are going to improve this year because we have two new hard working freshmen [Mamalat and Skoog], we still have four of our six starters, and we have also been working really hard all fall. We're just itching to get out there," Max Benson, a fifth-year senior on the men's team, said.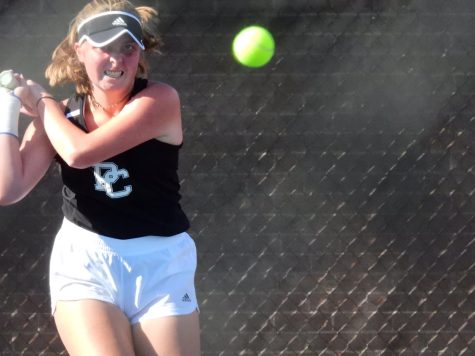 For freshman David Mamalat, he's convinced that men's coach John Collins is destined for a breakout year.
"We have a great head coach in Coach [John] Collins. He is ambitious and leads us to become great players and most importantly a great team," Mamalat said.
Furthermore, the Philadelphia native also knows that he and Skoog will have to bring their A-game as much as possible.
"For me and Austin, we have a great example set by the older guys to show us what it means to be a part of the team while pushing each other every day and competing alongside one another," Mamalat said. "We are both very hardworking and ambitious to bring everything we have to the table to make as much of an impact as we can on the team and the upcoming season."
The Blue Hose men's tennis team begins their spring season Saturday against the Georgetown Hoyas for a 1:00 p.m match. The women's team will start their season a week after, as they will take a short drive down SC-72 to take on the Lander Bearcats in Greenwood.