Dominance: How Blue Hose Softball's Jenna Greene Captured Preseason Big South Pitcher of the Year
Like any college or university, Presbyterian College's athletic programs historically have had some ups and downs.
But one PC senior is making a strong impact out on the diamond.
Jenna Greene, a pitcher for the Blue Hose softball team, recently earned the preseason Big South pitcher of the year award. The coaches of all Big South conference softball teams select the preseason pitcher of the year based on the pitcher's performance last season. 
Greene is from Hamlet, North Carolina and has been playing softball for most of her life.
"I remember first being interested in softball because I wanted to be where the most action was on the field all the time. I would get bored if I played in the outfield," Greene said. "I started practicing at the catcher position and then soon decided that I wanted to start learning to pitch!"
Even though Greene lived in North Carolina, she attended high school in South Carolina and was able to play softball in South Carolina's Pee Dee region.
"Growing up playing softball in the Pee Dee region was a great experience," Greene said. "I had a great high school softball experience at my small private school [Marlboro Academy] where we won two SCISA State Championships and I was named All-Region Player of the Year."
Due to her stellar high school performance, Greene was originally recruited to Morehead State University in Kentucky, where PC softball coach David Williams worked before coming to Clinton. When Williams accepted his current job with the Blue Hose, Greene began to consider becoming one.
"[Coach Williams] asked me to come tour the school," Greene said. "I loved everything about it! The beautiful campus, the small environment, and the home feel. It just felt perfect for me coming from a small town."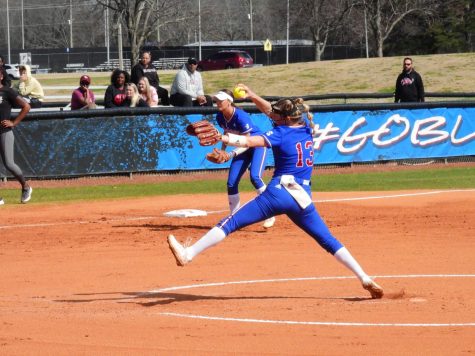 Greene has had a strong impact on PC's softball program, breaking school records in single season strikeouts, lowest opponents batting average, single season shutouts, career strikeouts, and career shutouts.
For Greene, perhaps her greatest accomplishment is earning the preseason pitcher of the year award. She was quite surprised to receive it.
"I found out about 15 minutes before the Big South posted it on their socials from my coach," Greene said. "I was extremely surprised when I found out because it was honestly something I had not expected at all! I have never been awarded preseason pitcher of the year my entire college career so it was definitely unexpected!"
Williams recognizes Greene's abilities and importance to the team.
"Jenna is very deserving of this recognition," Williams said. "She works extremely hard at perfecting her craft and is a true competitor in the circle for our team. Jenna takes the same approach in all aspects of her life, not just softball, which makes her a well rounded individual."
But Greene knows that she would not be where she is today without the strong influence of her friends and family.
"I have loved my softball experience at PC," Greene said. "The people here who have had the strongest influence on me are my three roommates. We have lived together since our freshman year and do everything together. We have been there for each other through COVID when our season was cut short, making it to the Big South Tournament last year and finishing fourth, and everything in between. They are some of my biggest supporters and encouragers."
Even more important for Greene is the influence her parents have had throughout her softball career.
"I can't talk about growing up playing softball without thinking of my parents," Greene said. "My parents have played such a big role in my success and love for softball. They have constantly supported and encouraged me by taking me all over the country to play travel ball, spent countless hours at my practices, and coming to watch every single one of my collegiate games. They are my biggest fans and I owe so much to them!"
Greene is a double major in psychology and religion and will be attending PC's Occupational Therapy Doctoral Program this coming fall. She also has some goals for her softball performance this season.
"This season my goal is to bring home a Big South Champion title with my team and go to regionals in the NCAA tournament. Another goal of mine is to have achieved the title of pitcher of the year by the end of this season," Greene said. "[Winning this award] has made me really excited to get started with the season and see what all our team will accomplish this year!"