Notable Buildings on Presbyterian College's Campus Suffer Damage from December Winter Storm
While students got to enjoy a nice winter break following fall semester, some of the more popular buildings on Presbyterian College's campus experienced the exact opposite.
Areas such as Carol International House, Jacobs Hall, and Bailey Memorial Stadium suffered damage from a winter storm that spread through the eastern United States in late December, causing snowfall, blizzards, and flight cancellations to all occur. 
While the Carolinas weren't strongly affected by the conditions compared to areas such as the Midwest and Northeast, the storm's impact could still be felt throughout campus.
"Carol International House, Jacobs Hall, and Bailey Memorial Stadium all suffered damage from the winter storm that passed through in late December," Jeff Scaccia, PC's Vice President for Finance and Administration said.
During Christmas day, all of the pipes of Carol International House became frozen due to the extreme cold temperatures outside, causing one of them to burst as a result. Because of the pipe's damage, the building's roofing had to be replaced, causing the entire lobby to be closed off for construction.
The closure even affected some PC students' routines on campus.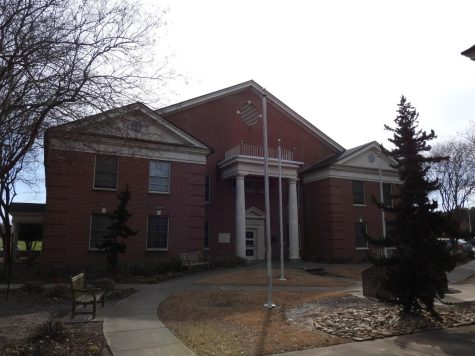 "I was in theater class and I could not hear my teacher talking because the construction was too loud. This is very unfortunate for students who have class or live at Carol International House," Andrew Pender, a PC student and resident of Carol International House said.
Over on the other side of campus, the second floor of Jacobs Hall is completely blocked off for construction, causing at least four classes to be relocated to other areas. Bailey Memorial Stadium suffered similar pipe damage like Carol International House, but the damage is not expected to impact many of the Blue Hose' spring sports teams that utilize the facility.
While not as severe, Georgia Hall experienced slight flooding, but no rain was able to get into the interior of the building, preventing any risk of storm damage. 
Fortunately, Scaccia expects all projects to be completed sometime in late March. He also anticipates a less likely chance of future severe weather damage or additional construction as the spring season approaches at PC.
"All problems were addressed immediately and they are under construction right now. While a couple of other buildings did suffer additional wind damage, all are in great shape and in no need of reconstruction or renovation," Scaccia said.