A Surprise: Blue Hose Softball Team Gifted With New Locker Room, Features at Softball Complex
After a long and anticipated wait, the Presbyterian College softball team is getting a brand new feature for its program.
On February 17th, the Blue Hose were introduced to their brand new locker room that will be used for all games and contests. In addition to the locker room, many renovations were also made to the complex which now includes larger bleachers, a concession stand, restrooms, a press box, covering for the batting cages, a new scoreboard, and stadium lights. 
Located right at the PC Softball Complex, the new facility serves as a monumental advancement for the softball team along with PC's plans to improve some of its existing athletic facilities in the near future.
"Having our own space has made us feel we're at the level of every other program in the Big South Conference. Beforehand, we would have to sit in our cars and now with the locker room, it helps elevate the atmosphere of the team by all being together in one space," Layna Johnson, a senior infielder for the Blue Hose said.
The Blue Hose softball team's original locker room was located at the Templeton Center. Prior to games in the past, the team would have to make a five to ten minute walk over to the field for game days and practices. Sometimes, softball gear would have to be stored in players' cars in order to accommodate space.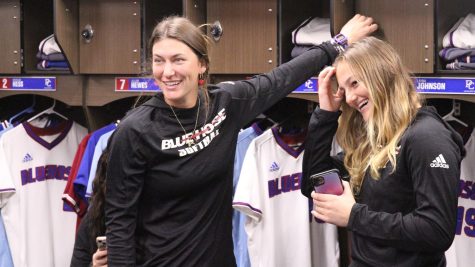 With the new locker room, the team can now be proximal to the field, something PC softball coach David Williams is excited about, especially when it comes to attracting high school recruits and fans to watch the Blue Hose in action.
"It is rewarding for them to finally have a space that is Division I standards and for us to have a facility right here at the field makes everything completely self-sufficient for us," Williams said. "These new additions are an advantage in terms of the recruitment process and attracting more fans to the games."
The locker room also provides a number of attributes to the Blue Hose softball program.
The renovations to the PC Softball complex have helped players improve their ability to balance their athletic life with their academics, especially with having resources much closer than in the past.
"It has become a lot more convenient to be able to shower and change right after practice during the day and go straight to class without having to make a stop at their apartments or dorms in between," senior pitcher Jenna Greene said. "Student-athletes have a lot on their plates between sports, school, and extracurricular activities and this new installation has helped the softball team balance their plates a little easier." 
For Greene, the new features to the complex are all about supporting the PC brand and helping each of the Blue Hose programs become better each day.
"A lot of parents and families have wanted to see [the renovations], but I have also seen a lot of other students and student-athletes come out because they want to support us," Greene said. "Continuing to support the softball team and other sports gives the PC community a sense of pride and fulfillment."
©Presbyterian College