PC's Archery Club Seeks Growth Among Student Body
At Presbyterian College, students have the option of choosing from over sixty clubs and organizations to be a part of on campus.
Now, one of these clubs is looking for new members.
PC's student run archery club, founded in 2017, has experienced some strong growth this year. The club was initially successful but experienced a major setback when it was shut down due to circumstances surrounding the COVID-19 pandemic.
To help with this, Dr. Jerry Slice, a Professor of Economics and Business Administration and the club's faculty advisor, applied for a USA Archery grant in the fall of 2021. The grant, close to $6,000, gave the club its own equipment to allow archers without their own equipment to participate. Still, the club is relatively small and currently does not have an on-campus location to host practices.
"We are working with the administration now to try and get us a regular place to practice. Instead of practicing on campus, right now we go out to Belfast Plantation, which is on Highway 56. It's close to ten miles from [PC], but there's a permanent range set up," Slice said. "At a typical practice, we'll have at least four dedicated archers, so we're pretty small. We have fifty people, though, that have signed our interest sheet and are interested, so we see growth happening."
The club received a major boost when PC hosted the Scholastic 3D Archery (S3DA) state tournament on February 10th, a program for ages eight through eighteen. Slice hopes that PC will be able to continue working with S3DA, and the Blue Hose plan to host their outdoor tournament this summer.
"That was a big event. We had about a hundred and fifty archers on campus. They shot their tournament in Springs," Slice said. "Hopefully, we have that relationship with this very fast-growing program in the state, and that will allow us to get more of these functions."
For Slice, he hopes that students will join the archery club to make new friends and have a fun experience.
"Archery is fun," Slice said. "Our primary goal is not to focus so much on being competitive that you lose the joy of it. Anyone can participate in archery regardless of their size, age, fitness level, and you can actually compete against yourself and improve as you go along, and of course, you can always compete against others if you like. So yes, it is a competitive sport, but you move at your own pace, and regardless of age or physical capabilities, you can participate."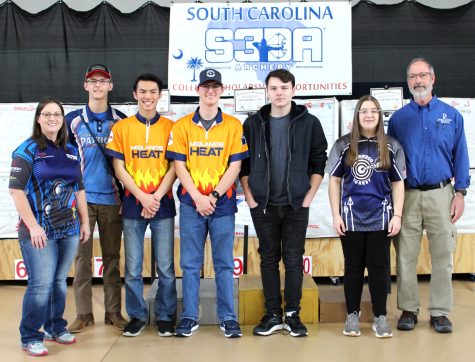 Currently, the competitions consist of students competing against each other, but Slice sees potential for more competitive events in the future.
"Right now, since we do not have a team, we are not doing collegiate competitions yet, but we plan to be doing that next year, as our club grows," Slice said. "I'm hoping by next year we have some individuals that would like to compete at the collegiate level."
In the meantime, Slice has another suggestion for students interested in competing.
"There's another fun thing with archery in that you can actually do virtual competitions as well," Slice said. "Someone from PC could compete and have it videoed and compete with people at other places in the country. There are lots of opportunities for competition."
Slice further points out that safety is not a concern with archery.
"Archery is the fastest growing sport in the nation," Slice said. "It's a very safe sport. It's a very popular sport, and it is one that you can continue to do throughout your life, and of course, it takes practice and concentration and a little bit of dedication to improve, but I think those are skills that transfer over into other positive experiences. We've already mentioned it's fun, but also you can make new friends not only at PC but as we grow our program and we interact with other collegiate programs."
Beyond PC and Laurens County, archery is popular at many schools in the region, such as Winthrop University, Georgia Southern University, and Clemson University. A Clemson graduate, Slice became interested in archery during his undergraduate years.
"I got interested in [archery] mainly because when I was in college, some of my friends shot archery," Slice said.
For Christopher Housley, a junior at PC and the current president of PC's archery club, he too sees the archery club as a place where students can make new friends and have fun. Housley has been practicing archery since he was four years old.
"Students should join the archery club if they are interested in learning how to properly handle a bow and arrow, and having a fun time with friends learning a new skill that they can take with them in the future," Housley said.

Students interested in joining the archery club should contact Slice or Housley at any time to be added to the mailing list and begin attending meetings. Archers are free to use their own equipment or the equipment the club provides.