Prison-Break the Racial Barriers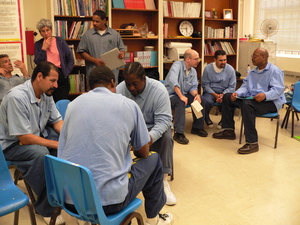 Last week's Southern Circuit film, Noel Schwerin's In an Ideal World, depicts the difficulties of a Southern Californian prison system attempting to desegregate its inmates. Following the stories of two inmates, Sam Lewis and John Piccirillo, amongst many others, In an Ideal World shows how these two men live and change within a system that not only imprisons them physically, but imprisons them into an institutionalized prejudice.
One of the first spoken lines of the film comes from an inmate describing how new inmates become a part of the system. "Somebody older tells you this is how we do it," he says, "We have our colors and you have yours."
Race and ethnicity, then, become the first factors in how prison groups form.
One inmate, John Piccirillo, describes it as "some type of order" that is necessary to protect oneself in prison. "Each race has its own standards and codes," he says. Likening prison to a large fish tank filled with different types of fish, he says how one has to be a big fish that eats the smaller ones in order to get out on top. "You have to carve a name for yourself," he says.
Segregation, then, seems to be a way to keep the peace. But for Sam Lewis, he views the segregation as a way that leads to violence, because if someone violates the rules of another racial group, then they violate what one group calls prison justice, and that leads to violent fights that others can't engage in, otherwise they risk putting themselves in danger.
Lewis is one of the inmate leaders of the Alternatives to Violence Project. AVP is an integrated group project that demonstrates and teaches inmates to be respectful toward each other through engaging in workshops that break down the cultural and racial barriers initially set up. For Lewis, this program allows him "to be a bigger man, using his mind." For Piccirillo, however, who has spent most of his life in prison, violence has become almost synonymous with power, and the AVP presents a challenge to his way of thinking.
Over the course of the film, one sees how both Lewis and Piccirillo change and respond to difficulties with the prison's attempts to officially desegregate the prison, with conflicting personalities and perspectives, and with denials for parole. In the end, both men come to realize the importance of integration as a way of really seeing and even allowing themselves to see other people as people. Yet this comes tempered by the ineffective way the prison has carried out integration, meaning, hardly at all.
Systematic prejudice still runs rampant in prison systems today, and especially in the United States where it seems that more prisons are created that perpetuate this prejudice each year. Schwerin, in the discussion after the film, mentioned how the system is still so deeply embedded that it will take much time to fully reverse. Referencing a prison in Texas that enforced integration, she talked about how the transition period there, nearly 10 years, was "very bloody and violent." Still, she said that the film intended to be "hopeful to the extent [in that it allows viewers] to confront and converse about difficult issues."
While prison inmates are people full of surprising wisdom and insight, highlighted throughout the film, the systematic prejudice that prison systems uphold seem to perpetuate a negative stereotype of these people. In an Ideal World criticizes that stereotype by exposing the faults in the system and presenting an option, however small, to reach better equality amongst people of all races. An ultimately hopeful, though bittersweet film, In an Ideal World shows how equality and humanity extends beyond what most viewers consider home, and takes them to a Southern Californian prison breaking racial barriers one inmate at a time.