by Brandon Elledge | Staff Writer
With Attorney General Jeff Session's announcement on September 5 of the decision to rescind the Deferred Action for Childhood Arrivals (DACA) program, which shields over 800,000 "dreamers," the voices of a variety of people and groups sounded throughout headlines and media. Across the nation, individuals, government officials and business leaders all voiced their opinions about the threat to the 2012 immigration program created by former President Barack Obama.
In many major cities, both citizens and "dreamers" protested the decision. In Oakland, California, for instance, a multitude of protesters rallied and marched two Saturdays ago at the Frank H. Ogawa Plaza in support of DACA, reciting chants, picketing with signs and allowing for numerous DACA protectees to share their stories.
Signs at the rally included slogans such as "no ban, no raids, no wall," "Unity makes us stronger," and "Defend DACA;" many signs read "Resist Trump" at the bottom under the main text.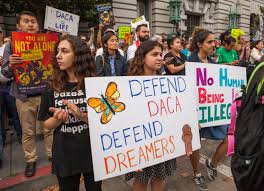 Other major cities, like Atlanta, New York, and Chicago, saw protest as well, much in the same fashion as the Oakland rally.
Even closer to home, at the Greenville, SC, Peace Center, a rally took place on the day of Sessions' announcement, in which hundreds of protesters gathered to vent their frustration.
Tucker Carlson, conservative commentator for Fox News, argued on his show Tucker Carlson Tonight that the Left's reaction to Trump's move has been demagoguery and nonsense. He said that DACA cannot continue because it is illegal, that people who are illegally in the United States are supposed to leave, and since DACA is illegal that the President is obliged to discontinue it.
Speaker of the House Paul Ryan (R) told reporters on September 6 that "President Obama was wrong to [enforce DACA] in the first place because he overstepped his constitutional bounds. We, the president and congress, take an oath to support and defend the Constitution.So, President Trump was right in his decision; he made the right call."
On September 12 at a press conference in support of dreamers, Nancy Pelosi, Democratic representative from California and House Minority Leader, stated, "We owe these dreamers for their patriotism, their courage, their optimism… but it's about America, too, the fight is for who we are as a country. [Dreamers] are the manifestation of that fight right now."
Business leaders also made strong stands on the issue. Apple CEO Tim Cook took to Twitter with his opinion, stating, "250 of my Apple coworkers are #Dreamers. I stand with them. They deserve our respect as equals and a solution rooted in American values."
Microsoft President and Chief Legal Officer Brad Smith wrote a company blog post against the White House's move. "If Congress fails to act," he wrote, "our company will exercise its legal rights properly to help protect our employees. If the government seeks to deport any one of them, we will provide and pay for their legal counsel."
Perhaps the strongest business opposition came from Mark Zuckerberg, Facebook co-founder and CEO. "​This is a sad day for our country," he wrote on his Facebook page. "The decision to end DACA is not just wrong. It is particularly cruel to offer young people the American Dream, encourage them to come out of the shadows and trust our government, and then punish them for it. The young people covered by DACA are our fr
iends and neighbors. They contribute to our communities and to the economy." Also on his page, Zuckerberg held a live stream sit-in with some "dreamers" in his home, discussing their experiences and the potential end of DACA.
About 15 states have reportedly filed lawsuits against the Trump administration over his decision, including California, where approximately a quarter of the all DACA recipients reside. On Monday, the Golden State's Attorney General, Xavier Becerra, sued the White House and later stated, "everyone of us here in [the United States] is entitled to make sure that our government doesn't treat us in an arbitrary or capricious manner.
We are entitled to know about some accusation and what the process will look like, and in this particular case, the Trump Administration violated those fifth amendment rights. We are going to do everything we can here in California to protect the interest of all [these] young Americans."
President Robert Staton, along with hundreds of other private and public institution presidents across the nation, signed a petition to support DACA on the basis that their DACA students are "exemplary student scholars and student leaders, working across campus[es] and in the communit[ies]." The petition was created by Pomona College in Claremont, California, and is open to all college presidents to sign.
PC students have not been silent either.
On September 13, Christian Education students Sarah Yoss, Mary Moore Driggers, and Joshua Eargle set up a table in Springs to encourage students to pursue action in the passing of the Dream Act, a bill proposed to honor the recipients of the former DACA policy.
Eargle, Bluefish student minister and Religion-Philosophy major, elaborated, "The idea came about in our Youth Ministry course while Sarah was writing her own personal letter to her state's congressman. After Mary Moore and a few others demonstrated their interest in support of the Dream Act, Sarah directed us to a faith-based website known as Sojourners [which] argues for and encourages folks of all faith traditions to be the change we want to see in their world, to become reflections of the God we claim to love. The staff had written a letter in which anyone (so long as they provided their name, home address, and email address) could send said letter to their respective congressperson(s). With two laptops in hand, Sarah and Mary Moore set up camp in Springs, asking students to publicly declare their support in the form of the Sojourners' letter."
Eargle then stated, "I support the DACA policy because of my faith: it is a mandate in all Abrahamic traditions, regardless of their outward expression/manifestation, to welcome the foreigner in one's land. While I understand the practical concerns such as alleged crime rates among illegal immigrant populations or economic disenfranchisement for the unskilled worker, I do not believe these concerns are adequate in removing DACA. What statistics are finding, however, is that a majority of the undocumented population are law-abiding, tax-paying, productive members of society. What assures me… is that the Dream Act maintains these same conditions for a person to be eligible for qualification."
He quoted the Bible and the Quran in expressing his argument, mentioning Leviticus 19:33-34, "When a stranger sojourns with you in your land, you shall not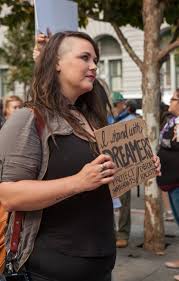 do him wrong. You shall treat the stranger who sojourns with you as the native among you, and you shall love him as yourself, for you were strangers in the land of Egypt: I am the Lord your God." From the Quran he pointed out An-Nissa' 4:36, "Worship God and associate nothing with Him, and to parents do good, and to relatives, orphans, the needy, the near neighbor, the neighbor farther away, the companion at your side, the traveler…"
Yoss, senior Christian Education student, added, "[We] were very upset about the DACA Policy being ended, and we feel that as people of faith, we are called to do justice, love kindness, and walk humbly with God. It is very clear in the Bible that we are to accept the stranger and to love our neighbors as we love God, and unfortunately, I do not think that was done by ending the DACA Policy."
At the end of the day, though, one thing is clear, that no matter what people think, feel or argue, time is running out. According to the Trump Administration, Congress has six months to act on the DACA issue and either to pass or reject the potential "Dream Act" which will continue the policies under DACA.
While it is unsure how Congress will handle DACA or what President Trump will do with the program if the legislature fails to act, Paul Ryan did make a statement related to this particular issue. "We're going to work with the President on how to do this legislation", Ryan said on his September 6 interview, "and if we have legislation coming through here that is worked with and supported by the President, I'm very confident that our members will support that."