Fake news speaker draws crowds
by Sage Hinkleman |
Fake news is one of the most commonly talked about issues in America today, and yet it is one of the most difficult terms to define.  It is referenced in almost all college classrooms and even on media outlets.
Dr. Robert Entman, a J.B. and M.C. Shapiro Professor of Media and Public Affairs and Professor of International Affairs at George Washington University in Washington, D.C., defines fake news as, "fabricated claims intended to promote a political position, produced and distributed outside conventional mainstream News organizations but written and formatted to appear credible."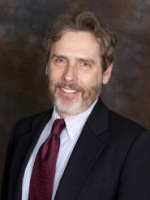 Entman visited PC's campus on Nov. 16 to give the first lecture of the Samuel C. Waters Lecture Series on the subject matter of fake news. This event had so many attendees that it was standing room only in the auditorium. Students and faculty at PC expressed an obvious interest in today's fake news craze and showed a desire to learn more about it.
Entman went on to explain the problems which are present with fake news. He said that it "wrongly informs citizens" and "emotionally antagonizes and outrages" these citizens. He also addressed the reason why fake news has risen in popularity. These reasons include "financial decline of legacy news", "rapid circulation of misinformation and disinformation" and "increasing emotionalized nature of online discourse."
Entman discussed the "intentional fakeness" of fake news and showed a diagram of this spectrum of intentionality.
Entman closed his lecture by providing a solution and manner in which one can recognize fake news. He said that "analytical thinking helps people to discern the truth." The more that people are willing to think, the less likely they are to believe fake news sources.
Entman believes that a "certified voluntarily self-regulated internet offered via ISPS" could be a great solution to avoiding fake news. He thinks that a service such as this, similar to a parent-controlled channel-blocking system, would greatly benefit the people who wish to avoid fake news as much as possible.