Big South Scholar-Athlete of the Year: Blue Hose Cross Country Runner Lili Jaraczewski Honored with Distinguished Award
Presbyterian College historically has been known for its academic excellence in addition to its athletic programs.
Recently, a PC senior was able to combine both of these and earn a prestigious award.
Blue Hose cross country runner Lili Jaraczewski was named Big South Scholar-Athlete of the Year at this year's Big South Cross Country Championships in Farmville, Virginia. Jaraczewski is originally from Wisconsin and moved to Greenville with her family about four and a half years ago. She has been running cross country for nine years and participates in track at PC.
"I was playing a lot of different sports, volleyball, softball, and I found out that they needed a middle school cross country team. They were trying to get people together to do that, and I joined, and I loved it," Jaraczewski said. "I felt like it was somewhere I belonged."
After participating in cross country throughout middle school and high school, Jaraczewski's running career is what brought her to PC.
"My cross country coach now came to one of my high school meets and watched me run," Jaraczewski said. "Being on scholarship for running has helped me pay for my education at PC in addition to academic scholarships. So that together was probably the best package that I could ask for."
Jaraczewski's coach, Coach Gregory Hudgens, continues to impact her running career. She was part of the first group of runners that he recruited to PC.
"My coach has definitely been a key point in my athletic career," Jaraczewski said. "I think that he has a very unique mission of wanting us to run as a group, to run as one, and that has been crucial in how I view our team, and that's been important. I've been honored to be part of that journey, kind of growing that team with him."
For Jaraczewski, equally important to athletics is academics. Jaraczewski's professors have also been an integral part of her PC experience.
"In addition to my coach here, I think that my professors have actually been very supportive of my academic and athletic journey," Jaraczewski said. "They're always very encouraging, and I think that I wouldn't be able to do the academic-athletic balance if I didn't have them."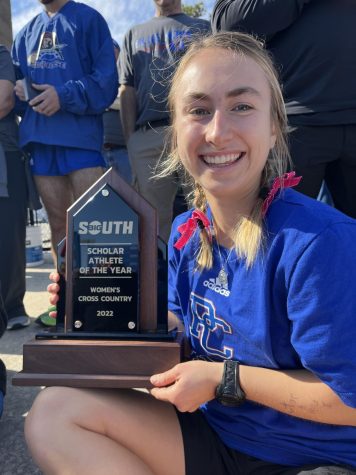 Jaraczewski believes that this award is the high point of her career, but she has broken many school records as well. Currently, she holds the school records for the Indoor 800m (2:37.5, 2020), the Indoor Mile (5:50.61, 2022), and, most recently, the Outdoor 1500m (5:13.95, 2021). She is the college's fourth fastest 6K runner and is one of PC's top 10 all-time 5K runners.
Through the Big South conference, Jaraczewski has been a member of the all-academic team for the past three years, including this year. Each year, one male and one female from each team are nominated to be on the all-academic team, and from these, the scholar-athlete is chosen for the male and female sides. This year, Jaraczewski was quite surprised to learn that she had won an award.
"I didn't find out until the day of that I won the award," Jaraczewski said. "They just called my name…and I got a trophy. So that is how I found out."
While not the first PC athlete to win this prestigious award, Jaraczewski was the first student from cross country to earn it.
"Lili's work ethic has been a fixture for this team and I couldn't be more proud of her accomplishments," Hudgens said. "When I recruited her in 2019 I knew I wanted her as the template to build both the women's and men's team around. She's the blueprint for what I look for in a recruit and I know her teammates look up to her with the utmost respect."
At PC, Jaraczewski is a biochemistry major, minoring in public health, and, after graduation, plans to attend medical school. She is currently interviewing at a few schools.
"I probably see myself practicing medicine in the southeast, and I would like to serve the people here. I think that there's a great need for healthcare providers, and I want to serve that cohort of people who don't have anyone to care for them," Jaraczewski said.
Jaraczewski has been able to balance athletics and academics at PC and encourages other PC athletes that they can, too.
"I think that some student athletes think that they have to pick one or the other, pick athletics or academics, but I think that awards like this show that you can do both, and that's the example I hope to set for other student athletes," Jaraczewski said. "You can do a hard major, you can take a lot of credits, and you can balance it, especially if you have the support of your coaches and your teachers."