PC Pink Out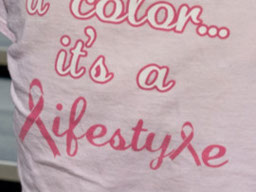 Thanks to the efforts of Susan G. Komen and other various organizations, people everywhere have gradually become more aware of breast cancer. One of these organizations happens to call PC home; Zeta Tau Alpha's national philanthropy supports breast cancer awareness in several ways. On the weekend of September 10th, 2011, ZTA hosted a Pink Out event.
Pink ribbons were placed all through the PC campus to raise awareness and to prepare everyone for Saturday's Pink Out event. Even the statues of PC were adorned in pink. One of the most noticeable pinked-out changes to campus was the dyed pink fountain behind Neville.
In the week leading up to the game against North Greenville, Zeta asked that all PC students and faculty wear pink to represent and heighten the awareness of breast cancer. Throughout the week they also took up names and registered people to walk during half time to help raise money for a cure.
On Saturday, Bailey stadium was not showered in the usual blue of school spirit; it was covered in a blanket of pink as people in the stands supported the fight for the cure. During half time the participants in the "walk for the cure" event were gathered at the track. Together the huge crowd began the walk for the cure.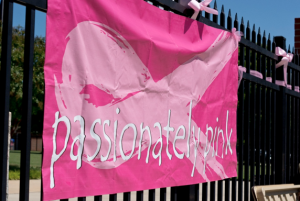 The cheerleaders, wearing pink bows and shoelaces, led the way carrying a sign. Behind them family, friends, mothers, daughters, granddaughters, grandmothers and strangers who were affected by breast cancer walked together holding hands. As they rounded the home stands everyone in the PC stands stood and applauded the walkers. Smiles washed across the faces of every participant. The applause lasted until every participant finished the walk. As the last elderly woman made her way in front of the stands the crowd erupted into a final applause. With a victorious smile the woman waved her hand in appreciation.
Every year over 40,000 women die of breast cancer. In the US alone 200,000 women will be diagnosed with breast cancer. Breast cancer is a disease that strikes the hearts of many women and men in the world. It is a disease that is especially dangerous because awareness of the disease is so low. There are many ways to check for breast cancer though self-examinations and clinical exams are good ways to catch the disease early.
One in eight women will develop breast cancer in their lifetime. There is no cure for breast cancer but with the help of organizations like Susan G. Komen and Zeta Tau Alpha, researchers can continue searching for the cure.
Sources:
Ed. Think Pink. Zeta Tau Alpha, Print.
Susan G. Komen for the Cure (2011): n. pag. Web. 14 Sep 2011. <http://ww5.komen.org/>.