MSU Game Night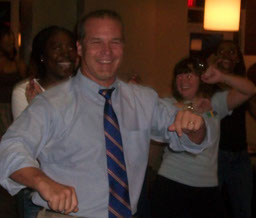 Presbyterian College's Multicultural Student Union (MSU) hosted a game night on Friday, September 9th that was open to the whole campus. The campus still talks about it. Those who came had a blast. There were games, music, pizza, soda, cookies, dancing, more pizza, and did I mention dancing?! One student I talked to said, "This was a fantastic idea. It's a Friday night before a football game. There's nothing else to do, so when everyone comes together to play games and have fun, it makes PC a fun environment on the weekends. Besides, we need more events to look forward to outside of the fraternity houses! I hope Community Life continues with fun, campus wide activities for Friday nights!" Students raved about game night even on Sunday as they laughed and shared stories with their friends of all the wonderful times they had that weekend.
MSU had a large turnout. They had students from each class, professors, coaches, faculty members, athletes, non-athletes, blacks, whites, Asians; the list goes on and on—although I think I covered just about everyone!
The highlight of my night was the collaborative dancing! This idea came about by the Vice-President of MSU, Dhmir Grant, a sophomore business major. Her and a few MSU members started what they call a "Soul Train Line" to the song "Set It Off" by an old school house music artist by the name of Strafe. I don't just speak for myself when I say that it was SO MUCH FUN!
Here's the scoop: the idea of a Soul Train Line originates from a show that aired from 1971 to around 2006 called "SOUL TRAIN"! So ironic, right? A Soul Train Line is literally a group of people standing in two lines that goes from one end of the room to the other. As the music plays, generally a pair of two people will dance down the middle of the two lines all the way to the end of the formation while being cheered on by the others waiting on their turn to shine! Once your turn is complete, you get on the opposite side of the line in which you came from and prepare to go down the "Soul Train Line" again! It's so entertaining seeing your closest friends, along with the people you just met, dancing and having a blast with no cares in the world. At that very moment, your worries are gone, as you laugh and joke about the "moves" you just "attempted" to do in front of complete strangers all in good fun!
The excitement didn't stop there. In fact, it had just begun! We all began doing the latest line dance called the "Wobble". Shortly after the song started, Coach Nichols decided he wanted to challenge his inner champion and learn how to Wobble as well!
Song after song played and the laughs and bonding continued. Playing games, dancing, hanging out with your friends, and free food turns out to be an ideal way to spend a Friday night before a big game!