Do It for the Kids
I know that you all have gotten several emails, seen Facebook posts, Tweets, Instagram photos and talked to an Executive Board member about it in Springs, but do you really know what Up 'til Dawn is? Up 'til Dawn is a student-led philanthropic program where college students across the country raise funds for St. Jude Children's Research Hospital.
Even though PC is the smallest school in the state to take part in raising money for St. Jude, we still managed to raise $20,000 last year; that's incredible! This year, we have a goal of raising at least $10,000 for the children's hospital.
Up 'til Dawn plans to live up to name of the event and actually stay up 'til dawn this year. The title of the event comes from a famous quote by the founder of St. Jude Children's Research Hospital, Danny Thomas; he said, "No child should die in the dawn of life." This means that everyone should be able to experience their precious childhood years.
Danny Thomas thought of the idea to create a unique children's research hospital, something that had never been done before. His main goal was to find cures for children's cancer and other catastrophic diseases through research and treatment. The hospital was opened on Feb. 4, 1962, and while it is located in Memphis, TN, children from all 50 states, as well as 74 countries, have travelled there for medical care. When the hospital was first opened in 1962 the average survival rate for patients was 20%, but is now over 80%.
Another unique feature of St. Jude Children's Research Hospital is that no family ever pays a penny for the medical care they receive. To run the hospital each day it costs $1.8 million, which is entirely covered by public contributions. The hospital also goes above and beyond the call of duty by providing housing for the patients' families while they are away from their home, receiving treatment. St. Jude also strives to make the children feel as comfortable as possible. They do this by making the hospital not feel like a hospital at all. Many children describe the atmosphere similar to Disney World, and that they never want to leave.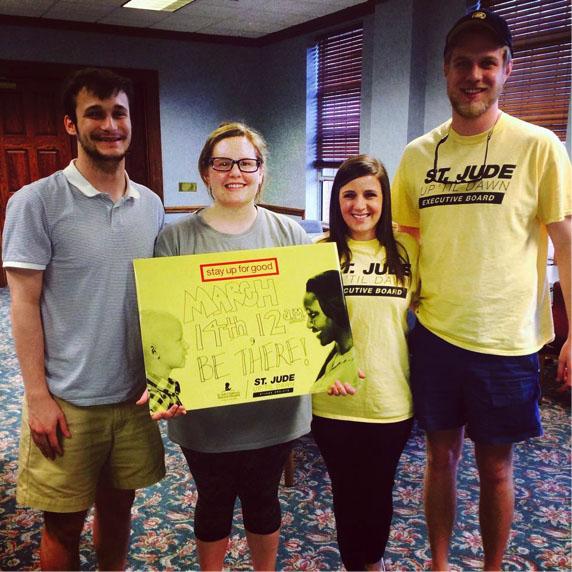 To be able to participate in Up 'til Dawn, students must either raise $100 prior to the event or bring 15 addresses to send out pre-written letters asking their family and friends to help financially support St. Jude Children's Research Hospital. The actual all-night celebratory event is March 13, beginning at 10 p.m. and lasts until 6 a.m. in the Mabry-Smith-Yonce Center.
While there you'll be able to play a game of scavenger hunt around campus, dance to Zumba, play glow-in-the-dark dodge ball, participate in a frozen t-shirt contest, play Fear Factor and see a member of Executive Board get their head shaved. In the end, participants can enjoy a pancake breakfast. As a member of the Executive Board, I cannot wait for the all-night fun to begin!