Mitchell Picks: Super Bowl LVI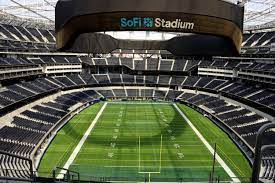 And then there were two. 
Super Bowl LVI is officially set as the Los Angeles Rams will take on the Cincinnati Bengals at SoFi Stadium in Los Angeles on February 13th. Like most Super Bowls in the past, there will be many players, matchups, and storylines to follow as we anxiously await to learn who will leave world champions and who will leave empty-handed.
This is the first matchup between the Rams and Bengals in the Super Bowl. It is also the second straight season that a team will play in the Super Bowl in their home stadium after the Tampa Bay Buccaneers did it the previous year.
It will also be a coach reunion as Cincinnati coach Zac Taylor will face off against his old boss, Rams coach Sean McVay. Taylor previously served on McVay's coaching staff from 2017 to 2018.
This is the first Super Bowl to not feature a number one or two seed from either the NFC or AFC, and that is one of the main factors I'll be following in the next two weeks, along with my predictions about who I believe will win the NFL championship of the 2021 NFL season.
Los Angeles Rams
How they got here: The Rams are appearing in their second Super Bowl in four years after coming up short in Super Bowl LIII against the New England Patriots. Ever since that loss, the Rams have been doing everything they can to make it back to the big game. 
It did come with a lot of gambling though. After parting ways with fan favorites such as quarterback Jared Goff and running back Todd Gurley, Los Angeles traded many first round picks until 2024 for guys that they believed could get them over the hump. Some of the notable ones included trading for former Jacksonville Jaguars cornerback Jalen Ramsey and former Detroit Lions quarterback Matthew Stafford. 
It's risky business, but the team won the NFC West. After beating the Arizona Cardinals and Tampa Bay Buccaneers, respectively, the Rams clinched a spot in the Super Bowl after defeating the San Francisco 49ers 20-17 in the NFC Championship.  
Best Offensive Player: Cooper Kupp 
One of the key contributors to the Rams' success on offense this year has been fifth year receiver Cooper Kupp, who has emerged as Matthew Stafford's number one weapon. After getting selected in the third round of the 2017 NFL Draft out of Eastern Washington, Kupp has become one of the best receivers in the NFL, earning first-team All-Pro honors in 2021 and the NFL's leader in receptions and reception yards. 
Not only did he finish with 1,947 receiving yards and 16 touchdowns, but he has also made several crucial catches in the playoffs, including a 44-yard reception in the fourth quarter that helped prevail the Rams over the Buccaneers in the divisional round. He missed the Rams' Super Bowl LIII run due to a torn ACL, but will play a major factor in the Rams' game plan against the Bengals.
Best Defensive Player: Aaron Donald
This is a no brainer. Aaron Donald has been a dominant force on the Rams defensive line since 2015 and has doubled, even tripled, the team's success as a result. With his powerful skill set, moves, and speed this uniqueness has earned Donald NFL defensive player of the year three times during his career with the Rams. 
Heading into Super Bowl LVI against a shaky Cincinnati Bengals offensive line (we will get into that a little later), I expect Donald to have a strong performance in the Super Bowl, after being a non-factor in the Rams' Super Bowl LIII loss against the Patriots.
Underrated Player to watch: Von Miller
Speaking of the Rams' big risk trades earlier, another notable acquisition the team made mid-season was acquiring future hall of famer Von Miller from the Denver Broncos. The former Super Bowl 50 MVP has improved the Rams' defense significantly, finishing the 2021 campaign with 9.5 sacks that continued into the postseason, including getting a forced fumble off former AFC rival Tom Brady in the divisional round. With Miller making his third Super Bowl appearance, I expect him not only to help out on defense, but to also help coach his teammates in the Rams locker room who will be making their first appearance in the big game.
Area of concern: Running game
Since Todd Gurley's departure, the Rams haven't had a strong featured back in the lineup. While the team does have a young back in Cam Akers, and acquired former New England Patriots Sony Michel through a trade, they haven't had the game-changing plays to be known as a reliable source. 
Akers is also coming off from a recovered achilles injury and struggled mightily in the Rams' divisional round win over the Buccaneers – he fumbled twice in crucial situations that brought Tampa back in the game. If the Rams want to bring their second title in franchise history, Akers and the running game will need to make big plays to help relieve the stress off Matthew Stafford.
Cincinnati Bengals
How they got here: The Bengals are in their first Super Bowl since George H. W. Bush was in the White House. After losing a heartbreaker to the 49ers in Super Bowl XXIII, the Bengals franchise has been a sleeping giant for most of the next 30 years. While Cincinnati had star players such as Chad Johnson, Carson Palmer, A.J. Green, and coach Marvin Lewis during that stretch, the franchise didn't win a playoff game until this past season and many fans grew stale of owner Mike Brown's stubbornness when it came to winning football games. 
Two years ago, the Bengals were the worst team in football during coach Zac Taylor's first year at the helm and many of the Cincinnati media wanted him gone out of the Queen City. But with the selection of Joe Burrow as the number one pick the following year, key additions in free agency, and strong drafting, not only did the Bengals win the AFC North, but won their first playoff game in 31 years against the Las Vegas Raiders in the wild-card round. 
Against the Tennessee Titans in the divisional round, the Bengals relied on their strong defense forcing three interceptions off Ryan Tannehill in a 19-16 victory and against the Kansas City Chiefs in the AFC Championship Game. Then, Cincinnati came back from a 21-3 deficit to win 27-24, thanks to another resilient defensive performance and the game-winning field goal from rookie Evan McPherson. With their third Super Bowl appearance, the Bengals are trying to win their first title in franchise history.
Best Offensive Player: Joe Burrow
I was torn here picking between the former Hesiman trophy winner and his former LSU teammate Ja'Marr Chase, but I ultimately went with the former. Burrow is the first quarterback in NFL history to be selected number one overall and advance to the Super Bowl in his second year. The major factor here is his unique ability of eluding defenders with either his arms or legs and making plays as a result. 
Not only has he transitioned well from a national championship team in Baton Rouge to being back to his home state of Ohio, but he also finished a successful season with Cincinnati that included 4,611 passing yards and 34 touchdowns. With help from a strong running game in Joe Mixon and a standout rookie season from Chase, Burrow will have plenty of opportunities to make plays in two weeks.
Best Defensive Player: Trey Hendrickson 
Coming from the New Orleans Saints this past offseason and signing a 4 year, $60 million dollar contract, Hendrickson has tremendously improved the Cincinnati pass rush alongside Sam Hubbard, and has played a major role in the Bengals' run to the Super Bowl. Not only was he selected to his first Pro Bowl this past year, but he is having a strong playoff campaign with six tackles, 2.5 sacks, and a forced fumble. Alongside fellow pass rusher Sam Hubbard and nose tackles B.J. Hill and D.J. Reader on the defensive line, the presence of Hendrickson has made a substantial impact on the Bengal defense this year and he will play a major factor for the Bengals' chances in Los Angeles. 
Underrated Player to watch: Tyler Boyd
Boyd has seen the good, the bad, and the ugly with the Bengals. A 2016 second round-pick out of Pittsburgh, the sixth year slot-wide receiver has been a consistent playmaker for Cincinnati, including the Bengals' disastrous 2-14 season in 2019. While he hasn't made a Pro Bowl or been selected to an All-Pro team, he has been a major leader in the locker room and has played a big role in Joe Burrow's development. He finished the year with 828 yards receiving and five touchdown receptions for Cincinnati. With Los Angeles's expected gameplan to limit Joe Mixon and Ja'Marr Chase, I have a strong feeling that Boyd may have a big game at the Super Bowl.
Area of concern: Offensive line
Joe Burrow was the most sacked quarterback in the NFL this past year with 51 sacks allowed, including nine times during their divisional playoff win at Tennessee, and the lack of talent on the unit has played a key role in it. For Bengals fans, the story hasn't been new. Cincinnati has had issues with the unit ever since star tackle Andrew Whitworth left for the Los Angeles Rams and controversy arose when Cinncancti picked Ja'Marr Chase over offensive linemen, such as Rashawn Slater in last year's draft. While the pick turned out to be tremendous and the offensive line has held, the issue still hasn't been resolved. Jonah Williams and Trey Hopkins have potential, but have not played consistently well enough. If the Bengals hope to win their first title, the offensive line will need to play the best they can in order to do so.
Overall matchup to watch:
Rams' Wide Receivers vs Bengals Secondary
The matchup of Cooper Kupp, Van Jefferson, and Odell Beckham Jr. going against Jessie Bates, Von Bell, and Chidobe Awuzie is going to be fun. No one has been able to stop the Rams' passing offense this postseason, but I do think the Bengals have a shot against them. They have forced six interceptions this season against a strong group of AFC quarterbacks and if they want to win two Sundays from now, they will need to be able to contain the Rams' wide receivers.
What's going to happen
This one is tough to pick. It reminds me of the 90s film, The Good Son, where the mother, holding her two sons over a cliff, has to decide which child to save based on the premise that one of them is good and one of them is bad.
No, I'm not saying that one team is good and the other is evil, but you get my point.
The Bengals are trying to win their first championship while the Rams are trying to rebound from their Super Bowl loss a few years back.
But there's also another weird analogy I thought of as well. Since my time on this Earth, I have seen many NFL teams win their first championship during the chapters of my education:
Pre-School: New England Patriots, Tampa Bay Buccaneers
Elementary school: New Orleans Saints
Middle School: Seattle Seahawks
High School: Philadelphia Eagles
Well, I'm in college now, and I haven't had a team to add to this list yet…and the Bengals are, of course, trying to win their first. I don't know if it has any merit, but I thought it was really fascinating to think about it.
Nevertheless, getting to the Super Bowl and losing it is also very painful and you have to give the Rams credit since their roster from their Super Bowl LIII had changed somewhat. Most teams in their situations would watch their window close within a matter of years.
Ultimately, I'm going with my gut and I'm going with the Rams on this one. While Joe Burrow has been incredible and Ja'Marr Chase has had a monster postseason, I don't know if the Bengal defense can carry the load.
It will lead to a shootout in the Super Bowl and in the end, I think Matthew Stafford makes up for all the losing in Detroit and will lead the Rams to a game-leading touchdown drive late in the fourth quarter.
And with thanks to a shaky offensive line going up against Von Miller and Aaron Donald, I think the Rams get a big stop in the fourth quarter and hold on for their second Super Bowl title.
Mitchell's Predictions: 
Pick: Los Angeles Rams 31, Cincinnati Bengals 27
Super Bowl MVP: Matthew Stafford